Purpose-built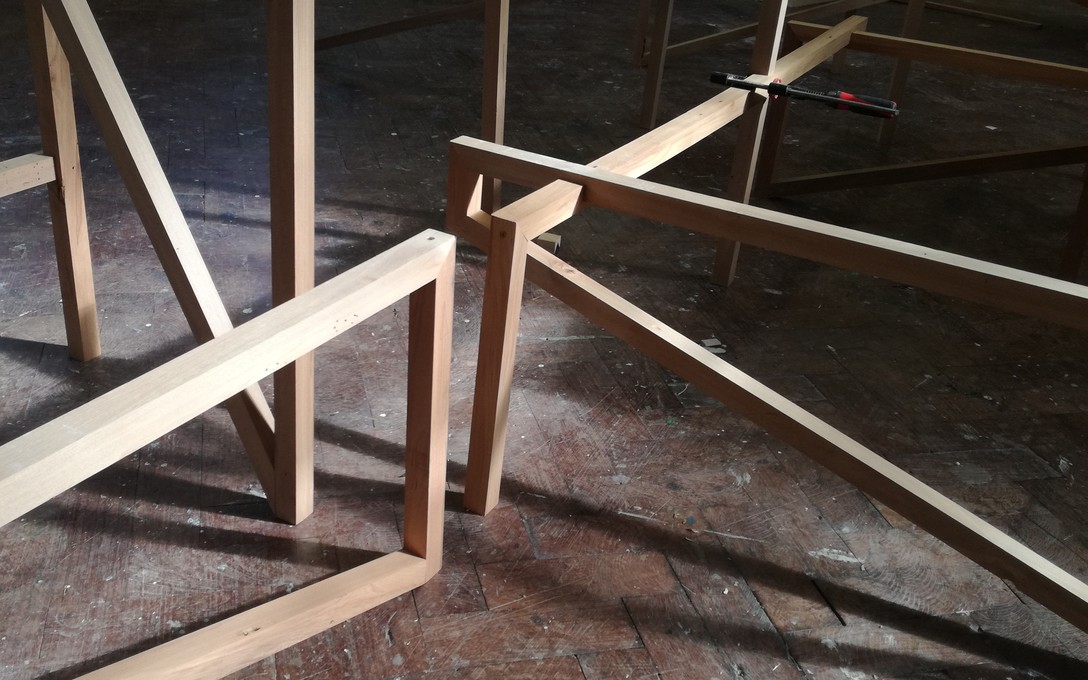 archived
16 Aug – 8 Sep 2018
Frontyard, Hyperreadings, Louisa Afoa, Samiz Dat, Tim Larkin with Abe Hollingsworth
Drawing on public infrastructure and collections of personal knowledge, Purpose-built examines contemporary sites of sharing, accessing and archiving information—probing the relationship between memory and physical space. Bringing together artworks, furniture, reading lists and digital content, the resulting installation sits somewhere between a space of display and a reading room. Visitors are encouraged to make use of the furniture and resources during the exhibition.
More
Taking reference from Alexander Rodchenko's Workers' Club, Tim Larkin and Abe Hollingsworth's sparse, geometric furniture is a functional and subversive approach to the idea of a "supportive structure." Originally presented in 1925 as one of the Soviet exhibits at the International Exhibition of Modern Decorative and Industrial Arts, Rodchenko's Workers' Club showcased the development of public social centres or Workers Cultural Houses in the Soviet Union. The designs for the Club "evoked a culture of hygiene, rationality, and economy … reconceiving leisure as active and collective rather than passive and solitary."[1] From this research, Larkin and Hollingsworth's interlocking system of seats, stands and surfaces highlights the gallery's role as an educative and social space, reminiscent of domestic interiors.
Displayed on a computer monitor housed amongst Larkin and Hollingsworth's furniture, the programmes Samiz Dat (previousy Dat Library) and HyperReadings are a response to the question of "how might we ensure the survival and availability of community libraries, individual collections and other precarious archives?"[2] Built on Dat Protocol, a peer-to-peer software for syncing folders of data, Samiz Dat decentralises and distributes digital libraries across computers to share the labour and responsibility of the archival infrastructure. Developed and maintained by artists Sean Dockray, Benjamin Forster and Julia Bavyka, HyperReadings is a free and open source software for writing, sharing, navigating and adapting "reading lists." These lists can be implemented into multiple libraries and sources, activating the archives. While still in development, HyperReadings embodies the potential for knowledge-sharing platforms to be used as a form of peer­to­peer education, as a list becomes a syllabus, a manifesto, a bibliography or anything that can be read.
Reflecting on the increasing hostility towards libraries and public spaces, a new collaboration between Enjoy Public Art Gallery and Frontyard (AUS) sees the two spaces embarking the process of exchange and entanglement as part of this exhibition. Drawing from each of our respective libraries, this publication exchange questions what it means to circulate a non-lending collection with care. The Frontyard library contains over 6,000 books rescued by Benjamin Forster as the Australian Council for the Art's former research library was decommissioned in 2014. The smaller-scale Enjoy Library contains independent and art-related publishing from throughout Aotearoa. Acquired by donation over the past 18 years, Enjoy's collection reflects a particular kind economy. In response Frontyard's event "Help us recommission the decommissioned!" Enjoy will host an afternoon tea during the exhibition to decide on what to send in return (date TBC).

Louisa Afoa's works are an extension of an ongoing series that plays with the conventions of wallpaper, collecting tokens of shared material culture and individual history to present a personal archive of sorts. Taking a medium where decorative motifs are repeated over and over to form a standard pattern, Afoa describes these works as a visual representation of a fraction of her own DNA. Illustrations of familiar objects and symbols such as Pokemon balls, red and green packets of Mackintosh lollies, taro, and checked tea towels offer what could be glimpse of the artist's personal or family memories. However, they also archive the atmosphere of a particular time and place, including the intersection of cultural contexts. Clippings of Afoa's digital wallpaper designs are presented in the gallery, both as a framed print and as postcards visitors can take away.

Also included in the exhibition are reading lists—both printed and digital—that can be browsed freely within the exhibition. The digital reading list consists of bookmarked websites that can be accessed through computers in the gallery space. Purpose-built is also accompanied by a one-day workshop on copyright in the creative industries held on opening weekend.
[1] Aleksandr Rodchenko, Worker's Club, 1925, part of the retrospective exhibition Aleksandr Rodchenko (1891-1956), 1998, The Museum of Modern Art, New York, https://mo.ma/2KtYPny
[2] Sean Dockray and Benjamin Forster, "README.md," HyperReadings, last modified 15 February 2018, https://sdockray.github.io/hyperreadings/
Curated by Louise Rutledge, Sophie Davis
EXHIBITION ESSAY
By Lachlan Taylor
Read online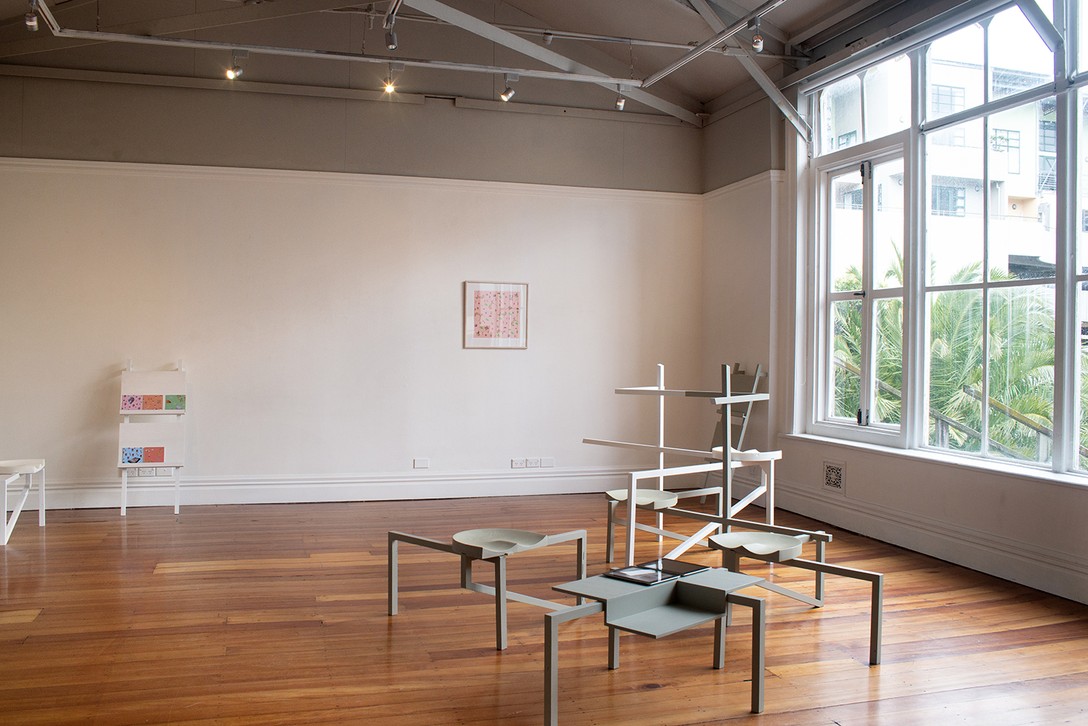 Enjoy would like to thank Elliot Creative for their support towards this exhibition.
Interview with Jay Hollows for Caffeine and Aspirin
About the artists and contributors
Louisa Afoa is an Auckland-based artist whose work often responds to lived experiences as a way to explore and give insight into the lives of the communities that she belongs to. Recent exhibitions include: Projects, Auckland Art Fair, 2018; Between you and Me, ST PAUL ST Gallery, Auckland, 2018; Heavenly Creatures, Verge Gallery (Sydney), 2018; I'll see you at Orion, Corban Estate, 2017 (solo); The Cold Islanders, Waikato Museum, 2017; New Perspectives, ARTSPACE 2016.
Located in Marrickville, Sydney, Frontyard is a Not-Only-Artist Run Initiative that provides a pro-active, multi-purpose space where the local arts-loving community come together for practical skills-sharing, critical research and survival tips. Their aim is to facilitate and nurture collaborations between people with a mix of disciplines with a passion for culture and to build a more resilient and sustainable independent arts community for the future.
HyperReadings is free and open source software. It is a bit fuzzy in terms of authorship and identity—this is kind of the point. Although it is porous and informally open to collaborators, it is currently developed and maintained by artists Sean Dockray (AU/US), Benjamin Forster (AU) and Julia Bavyka (AU/DE). As software hosted on GitHub, the project is open to contribution and the direction the software takes is part of an on going conversation. You can be a part of that conversation too: https://www.hyperreadings.info/
Tim Larkin is a furniture designer, object artist and model-maker who primarily works with wood. He has a Master of Design with Distinction from Victoria University of Wellington and currently works at Massey University Wellington as a Technical Demonstrator. Larkin has exhibited his works widely and his furniture is held in collections at The Dowse Art Museum and Museum of New Zealand Te Papa Tongarewa. In 2018, his work I Don't Share (One Hundred Metres Blue) received a Merit Award at the Parkin Drawing Prize 2018.
Abe Hollingsworth is a designer/polymath based in Wellington. He is interested in the way that products and design can influence our physical and mental space and is a studio artist at MEANWHILE. Recent projects include Digger Issue 1: Doing Good?, 2018; SlumberParty, 2017, MEANWHILE; Bikespace, 2016, with Wellington City Council. He is also the drummer of the band Mermaidens.