Enjoy Feminisms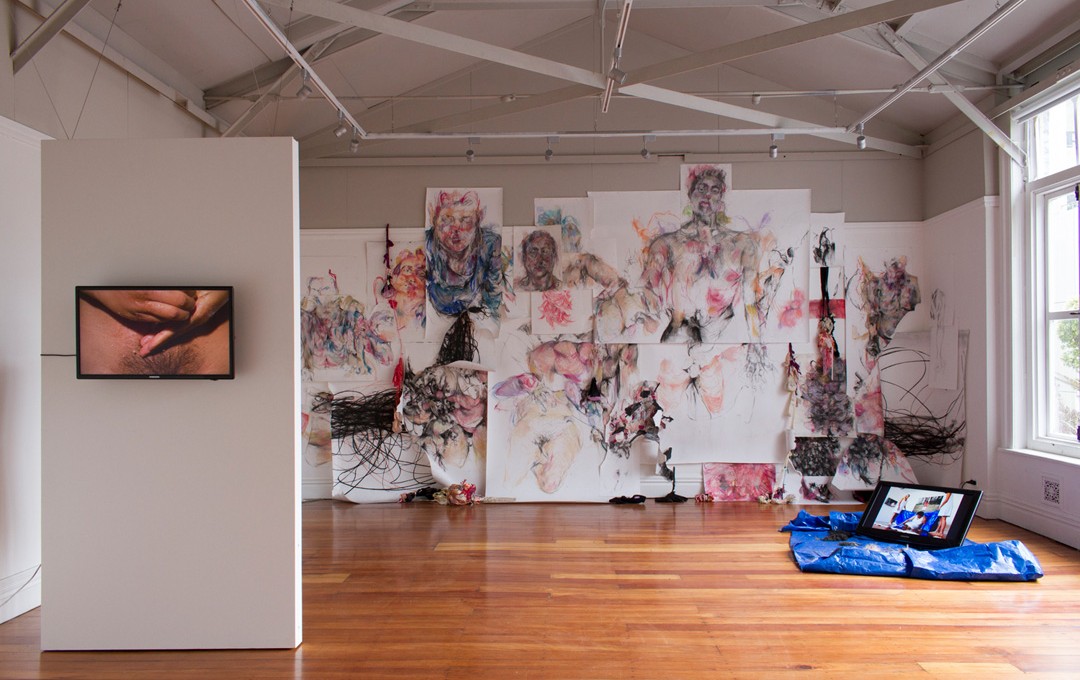 archived
12 Nov – 12 Dec 2015
Dilohana Lekamge, Faith Wilson, Fresh and Fruity, Leafa Wilson, Olive Wilson, Sian Torrington, Single Brown Female
An Enjoy Trust project
Feminism in Aotearoa/New Zealand and abroad is often represented in the mainstream media as a white middle-class issue focused around sex and career. But this barely touches the edges of the multiplicity of feminisms and how feminisms have affected all of our lives. This year the Enjoy Trust put out a proposal call for exhibition works, actions, and pieces for the Enjoy Occasional Journal which expand the discourse on feminisms.
More
Initiated by members of the Enjoy Trust, this exhibition contains eight pieces of work: three on display in the gallery, three onsite performative/participatory works, and two offsite participatory works. These works extrapolate the complex ways that feminisms are involved in the lives and perspectives of these artists. Feminisms to these artists weave together the complexities of race, sexuality, class, and nationality. We invite you, your perspectives and your lived experiences to this exhibition to enlarge this discussion.
Love Feminisms, the latest version of the Enjoy Occasional Journal, will also be launched at the exhibition opening and will further enhance this discussion, with essays on everything from the Anzac cookie to menstrual blood to the gendering of architectural space.
Read Kristy Baker's review, Contemporary NZ Feminisms, on EyeContact
Curated by Jessica Hubbard
Past Event
Four Waves of Feminism: The Ongoing Conversation in Aotearoa New Zealand's Art and Art Histories
Presented by The Dowse Art Museum and Enjoy Public Art Gallery with the support of the Making Women Visible Conference
More info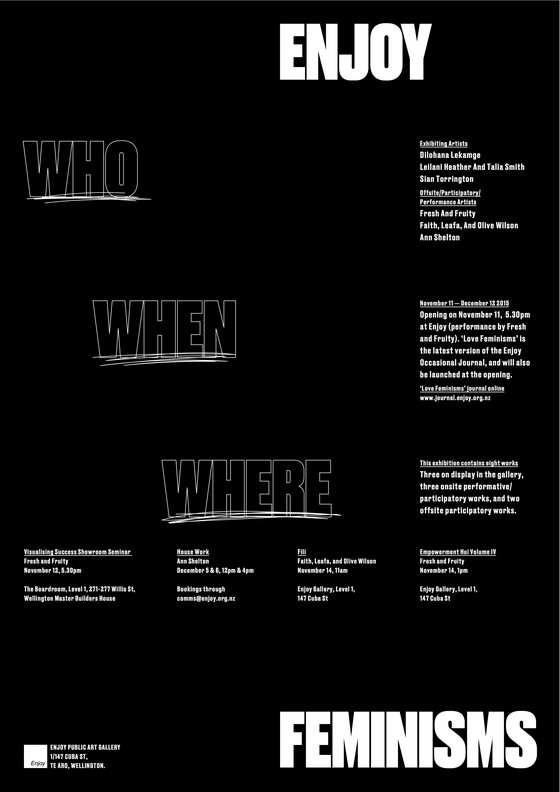 About the artists
Ann Shelton (MFA, The University of British Columbia, Vancouver, Canada) is recognised as one of New Zealand's leading photographic artists. Shelton is Associate Professor in Photography at Whiti o Rehua, Massey University, and in November 2016 Auckland Art Gallery will host her mid-career survey curated by Zara Stanhope.
www.annshelton.com
Dilohana Lekamge has a performance-based art practice that explores diaspora and emotional distance from female issues in Sri Lanka where she was born.
Faith Wilson, Olive Wilson, and Leafa Wilson AKA Olga Krause are a mother and daughters who have brought together their performative practices (Leafa and Faith) for a series of three works that cause a kind of conceptual violence towards the Western hegemony of art, of which this is the culmination. Leafa is a multimedia performance artist, Faith a poet, writer and performance artist, and Olive is studying Law at Victoria University.
www.gettheswitch.com
Fresh and Fruity is an online art collective, social media spectacle, brand and space run by women and based in New Zealand. Fresh and Fruity aims to create space for people who are both excluded and exploited within the art world, and wider society's, neo-­colonial capitalist framework.
Fresh and Fruity Instagram
Fresh and Fruity Facebook
Siân Torrington (MFA Massey University 2010) practices queer activism through making tangled, drippy, colourful things with unapologetic openness, vulnerability and passion. These include drawing, sculpture and installation that use building and assemblage as metaphors for creating personal structures of meaning.
allmeaningisthelineyoudraw.wordpress.com
Single Brown Female is made up of Leilani Heather and Talia Smith who use their shared everyday experiences and lives as inspiration to humorously subvert notions of race, identity and the gaze. Recent exhibitions include Breathing Room, Gaffa, Sydney (2015), W.e.l.c.o.m.e, Artspace, Auckland (2014) Single Brown Female (2014), Pearce Gallery, Auckland and Awkward Feelings (2014), Gus Fisher Gallery, Auckland.
www.brownhair-dontcare.com