Māia@Enjoy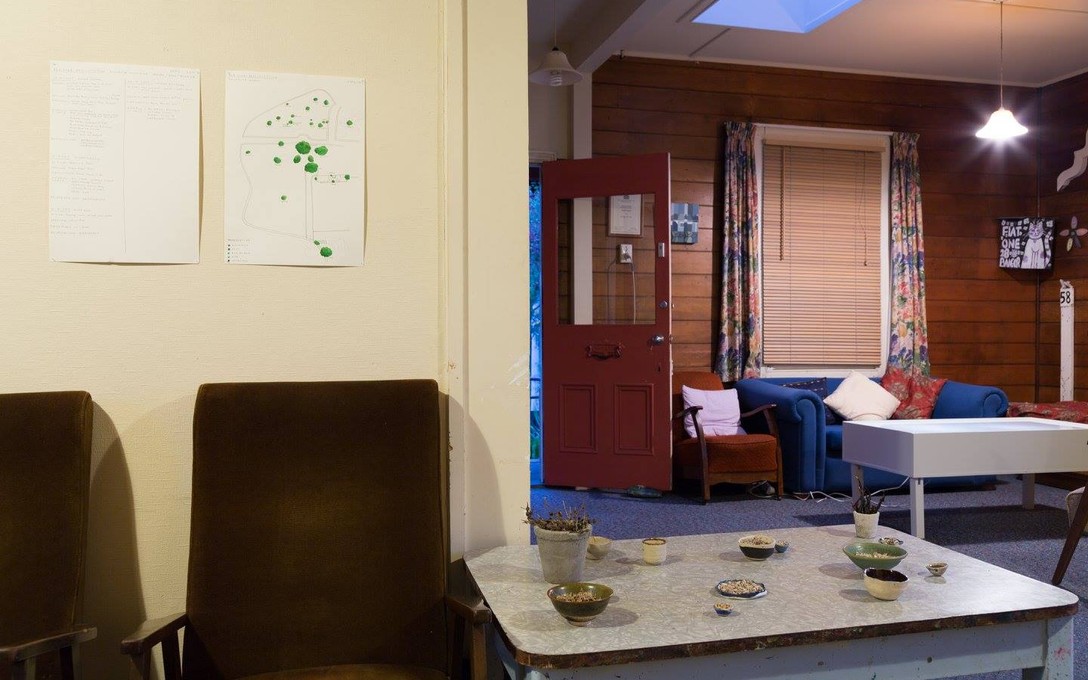 archived
16 Oct – 19 Oct 2019
Māia Abraham
Whakawhanaungatanga: meaning to establish relationships or to find connection with one another through experiences.
From 16-19 October, curator and artist Māia Abraham will undertake a residency at Enjoy that departs from a broad set of questions surrounding whakawhanaungatanga and creative practices, asking: How is whakawhanaungatanga important? What do these relational practices look like? How does whakawhanaungatanga relate to the development of creative practice?
More
Instead of seeking to answer these questions, Abraham has invited collaborators and mentors who have been influential in the development of his practice to sit and kōrero as the gallery becomes a space for conversation and collaboration. During this week-long wānanga at Enjoy, we invite you to join Abrahram and his collaborators in open kōrero, to share stories, knowledge and experiences. Starting with a few discussions that bookend the residency, the intention is for further interactions and conversation to develop throughout the week at Enjoy, and further events may be announced.
--
DEVELOPING AN EMERGING PRACTICE
WEDNESDAY 16 OCTOBER, 5:30 PM
We invite artists, curators, writers and others to join us for an open-ended kōrero exploring "professional development." Questions that will inform this include: what models and frameworks currently exist for emerging artists, writers, curators and others? What are our experiences of these models, who are they working for and who aren't they working for? What could the future look like?
BEING TOGETHER: TALKING AND MAKING WHANAUNGATANGA WITH ŌTAUTAHI KŌREROTIA
SATURDAY 19 OCTOBER, 11 AM
Join Māia alongside Caitlin Clarke and Hamish Petersen, the other kaiwhakahaere of Ōtautahi Kōrerotia, an artist-run initiative that has organised publications, performances and exhibition projects of all sorts in community spaces and gallery contexts in Ōtautahi since 2017 for a morning of kōrero, arts and crafts with lunch including bread provided by Zoe Thompson-Moore.
Past Event
Join Māia Abraham, Caitlin Clarke and Hamish Petersen, the three kaiwhakahaere of Ōtautahi-based artist-run initiative Ōtautahi Kōrerotia for a morning or kōrero, arts and crafts, followed by lunch with bread baked by Zoe Thompson-Moore.
More info
ABOUT MĀIA ABRAHAM
Māia Abraham (Ngāi te Rangi, Ngāi Tūhoe) is a curator and artist currently living in Ōtautahi. In 2017, Māia completed his BFA in Sculpture at Ilam School of Fine Arts. Within his practice he uses art and curating as a way of exploring kaupapa Māori ways of thinking and working; asking how does manaakitanga exist in the arts? Or perhaps why is whanaungatanga important to the artistic process? Māia is one of 3 kaiwhakahaere of Ōtautahi Kōrerotia, a collective producing events and exhibitions for and by local artists based in Ōtautahi, since 2017. He was the Toi Māori and Creative New Zealand Māori Art Intern at Blue Oyster Art Project Space for 2018, co-curating the exhibition Wā o mua, September 2018. Curatorial projects include: Whitu, Masterworks Gallery, Tāmaki Makaurau, June 2019, UKU//UTU, Blue Oyster Art Project Space, Ōtepoti, July–August 2019. Māia was also a participant in the Independent Curators International Curatorial Intensive in Tāmaki Mākaurau at Artspace Aotearoa in August.