My Best Friend's Breasts
Felixe Laing
Hanna Shim 심한나 is an Auckland-based artist known for her playful and humorous soft sculptures whose distinctive naive and kitsch style coerce audiences onto more sinister and contemplative grounds. Shim's latest exhibition at Enjoy Contemporary Art Space, Wishing you well is no different with its collection of large soft sculptures and moving image works.

At first glance the title Wishing you well could come off as something plucked from a generic sympathy card. However, this exhibition is heartfelt, earnest and ultimately refreshing in its joyous tone. Shim's clever interpretation of Enjoy's January 2021 call for proposals in response to a "post-pandemic" time, delivers the kind of art viewing I didn't know I needed but wholeheartedly welcome into my life right now.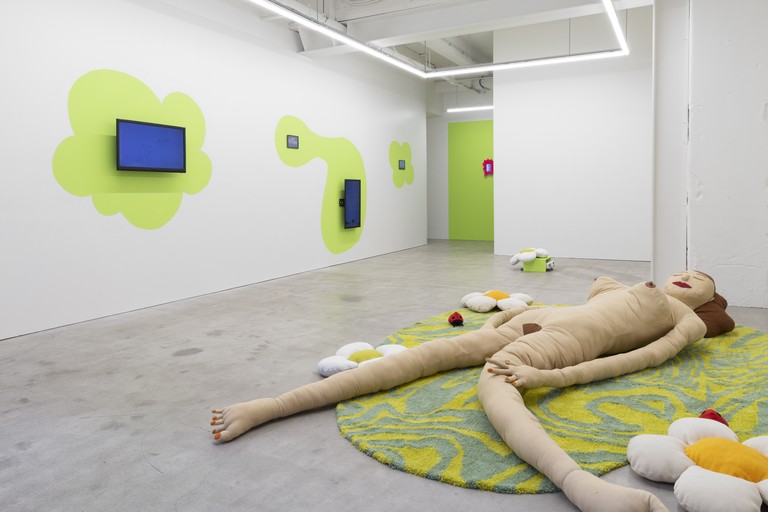 Shim's series of sewn and stuffed sculptures of giant daisies, ladybugs and mother figures lighten and soften the gallery space. The zesty lime-green wall paint immediately makes me smile. Mother and Mother II (both 2021) are four-metre long sculptures of blissful, nude women—one of whom takes up residency in the reading room chair, while the other reclines on the psychedelic two-toned green Daraengi (rug), 2022.
The Mothers feel alive, but do not create the unnerving energy that mannequins or other human-like figures can. (Such as the recent clown works in vocabulary of solitude by Ugo Rondinone1 at Auckland Art Gallery Toi ō Tamaki, which I'm sure have graced most people's Instagram feed at some point this summer.) Shim's mother sculptures could not be more different, they put me at ease.

At the opening of the exhibition Mother welcomes visitors and staff into her embrace. This invited interaction captures the exhibition's joyful and playful approach to inhabiting the characteristically hard and white-walled gallery. Shim's sculptural work softens intimidating spaces, drawing, as many contemporary textile art practices do, from domestic spaces and materials. In an additional alignment with craft-based media, a focus on care, repetitive-labour and reparative practice emerges in this series of sewn, stuffed and tufted works.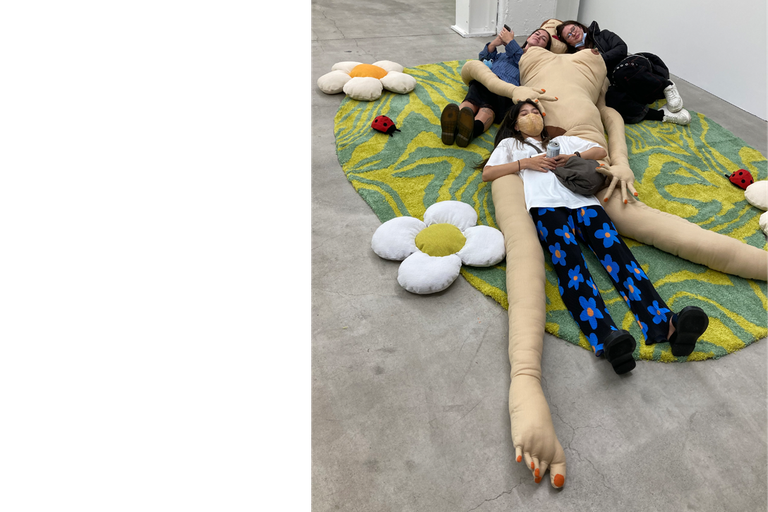 Shim's sculptures appear to insert themselves into spaces in a delightful way; something about their softness is unexpected. I first encountered her headless dinosaurs on the Elam Artists website homepage (Avorachiosaurus, 20152), and her mother figures lounging amongst the trees at Splore festival in 20213. Most fittingly, Shim's work Mushroom Room, 2017-20194 has been springing up around the country in various iterations over the past two years, just recently returning to the artist in Tāmaki Makaurau. Their softness surprises you and lures you in.

Mother and Mother II are technically accomplished. Although stylised rather than unnervingly true to life, Shim captures a certain type of realism in their design and construction, particularly in their torsos. This humanness affords the figures' immense presence, a certain warmth or magnetism. I note the curved seam which describes Mother's hip bone. The way the figure's arm seams run and twist down her forearm, describing the bend of an elbow, the shift or swivel of an arm muscle. Her breasts, if I'm honest, remind me strikingly of my best friend's, the way they sit to the side of the figure's slightly bowed chest. The company of Mother is not so dissimilar to a close friend, a welcoming, intimate figure in the space.
Still, I feel a certain nervousness when I interact with the sculpture. I think this is credit to the figures' presence, not just to crossing the traditional 'no-touching' gallery boundaries. When I lay with Mother—as any visitor is invited by the artist to do—I think she is asking us to lean into a moment with her, but also with ourselves. She is asking you to give into a certain vulnerability. I feel far more on display here in Wellington's relatively quiet Left Bank off busy Cuba Street than I do at home making breakfast most mornings in my underwear opposite a series of small business and apartment dwellers in central Auckland.
This is where the artist's cute 'n' kitsch facade fades and the more sinister or heavy tone washes over you. Mother as a title and a figure might inhabit the artist's own questions about whether motherhood is for her, but also more broadly asks a question about care. Care for ourselves; for our environment, for one another—particularly in a time of a pandemic. Wishing you well invites you to engage in a moment of reflection on recent times, while soothing you with playful and charming characters.
Initially the realisation that most works in the exhibition feature naked bodies eluded me, attesting to the thoughtful way Shim has depicted the body in her sculptural and animated works. Looking at the mother figures again, they hold peaceful, relaxed expressions as if contently daydreaming; Shim has managed to present the reclining female nude in a very non-sexual, present manner. The more realistic elements of the figure's torso dissipate and merge with a cartoon-like sketch of elongated limbs and stylised toes with appliqué orange nails. They dip into a more playful and fantastical examination of how it can feel to be in a body; the way Mother stretches herself across the plush rug resembling an iridescent whirlpool of synthetic grass, and Mother II reclines, almost sliding out of the reading room chair. Mother's hair is a perfect bouncy cushion, mimicking that magic feeling of laying down when your hair occasionally forms the perfect pillow.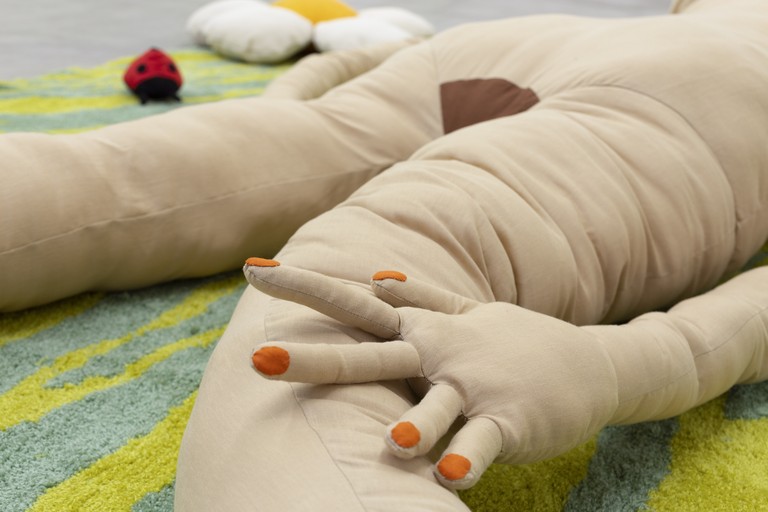 Alongside the sleepy or daydreaming mother sculptures are Shim's series of new and revisited animations spanning from 2014 to 2022. As a textile artist myself, I find the parallel relationship between Shim's sculptural and animation practices compelling. This is evident in her ability to translate flat patterns into large-scale three-dimensional bodily forms, which balance realism and fantasy. Her drawing process is in all the works; the hand-sewn stitches which secure a delicate, bright orange fingernail or a careful sketch which articulates slight gestures in an animated figure.
The animations feel like they could be daydreams of Mother and Mother II and/or of the artist, imposed over snapshots of everyday life. The images—mainly of the sky or suburban Tāmaki Makaurau—are the kind of fairly generic photos you might take of the view from your window or on a walk that populate a significant portion of storage on your phone.
Some works capture simple pleasures; like enjoying your favourite comfort food (A Spoon of Rice, 2022), dancing or being with friends (Winner's Dance, 2022) or even going for a walk (One day I'll skip naked, 2014). Awareness of the joy in these simple pleasures has been highlighted by the difficulties of living in a pandemic with social separation and general unease.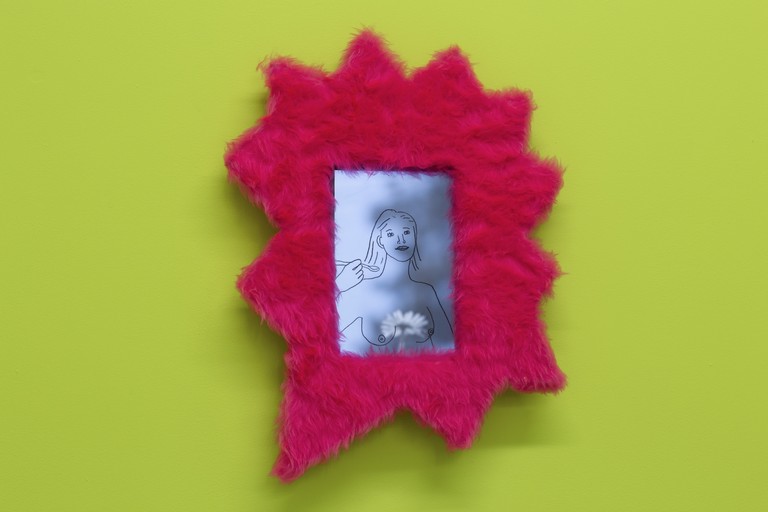 Shim shared with me that the postcard-like background image of a rainbow over a school field in One day I'll skip naked was taken at a time when she was feeling disillusioned and thinking of leaving art school. The imposed figure is a joyful skipping man, penis swinging between his legs in sync with his arms at his sides. In One day I'll fly on a bird, a nude figure in child's pose sinks into a bird. Her soft fringe swishes in time to the bird's wings. The photo of the sky was taken by Shim during the first lockdown.

There is a gentle rhythm to all of the animated works, which is undoubtedly joyous, but the repetition adds an air of suburban malaise. The work Bosch and I, 2022 shows an animated man leaning over and a flower blooming from his bottom with an air of dada absurdity. This imagined scene makes me think of chasing my inner calm on the yoga mat in lockdown. Hoping somehow through a child's pose my outlook will be reborn, and I'll only think of flowers on my daily walks.

The only animation without a background is Bubble Bubble Bubble, 2022. This work feels like it addresses the impacts of COVID-19 most directly in the exhibition. Shim's affinity for the word 'bubble' and how it has been repurposed in Aotearoa to describe social rules and boundaries, defining our social lives on and off for the past two years, is the inspiration for the work. The animation is of a series of heads floating and expanding into a connected chain. The animated figures blink and glance sideways at one another as they rotate, lips shifting. Their expressions are neutral or unsure as if deciding what to think of one another, or maybe grappling with how they have found themselves literally connected to each other. They remind me of an extending funfair bubble, cast in the air by a swift arm movement and emerging from a giant soapy loop as a long and warped tunnel form. I anticipate a pop. I find it to be one of the more contemplative works of the exhibition, definitely the most mesmerising.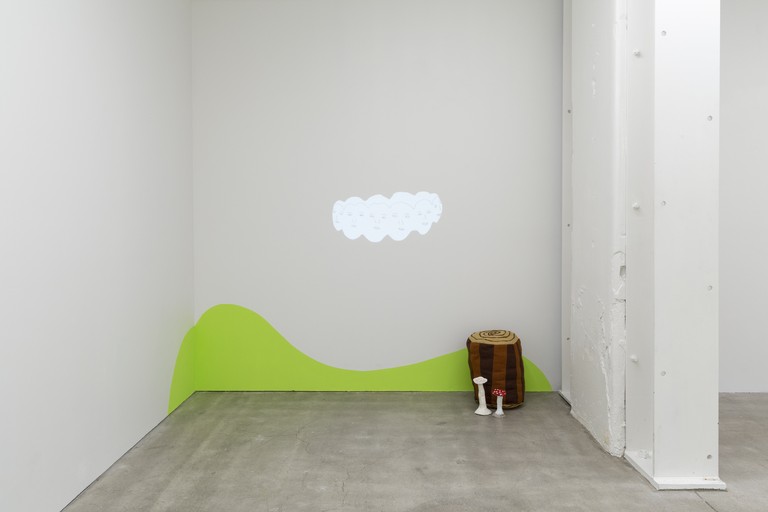 Watching Bubble Bubble Bubble I think about the people I have shared a bubble with over the past years. In lockdowns and cautious times, it's interesting who we end up relying on and caring for in our social bubbles; random flatmates, friend's families, aunts and uncles or most recently myself, alone. Furthermore, Wishing you well makes me consider the simple pleasures we seek out in difficult times, the photographs we take, what we make, what questions we turn over in our minds. How through humour and play we can cope, and also confront something more vulnerable and unsettling.