Don't fucking die today! Putain, ne meurt pas aujourd'hui!
Janet Lilo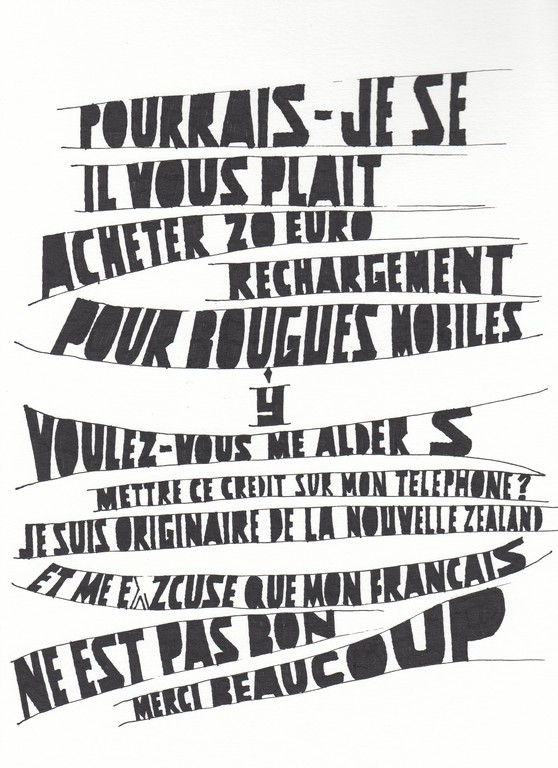 A Pussy juice a day keep a doctor a way—that was his status update in April 2014. I read it when I was snooping on the internet. From public posting observations, he seems to be obsessed with football and fond of Manchester United, including short videos that are supposed to be funny but are actually offensive. Anyway, none of this bothers me and I still have a soft spot for him because he saved me when I was in trouble. My first encounter with Giuseppe was actually on the phone. All this time I thought his name was Josepe but I got it wrong and as a result I need to throw away some of my drawings. I waved goodbye to the black Renault and crossed the road. It was almost dark and the place looked closed. There was a note on the door with a number so I called it. Bonsoir, blah blah blah. My French was so fucking shit. He told me in the strangest accent (not French) that the door would open—which it did—and that a key with my name on it was hanging on a little hook to the left—and it was. From there, I had to climb a very narrow winding staircase to the fourth floor. The carpet was the colour of new blood and I felt like dying, having walked 15kms with my 20 kilo pack through some challenging terrain (with rain).
At one point, I had to pretend that I was not Janet but some sort of athlete who was simply on a training mission that involved clawing uphill through roadside trenches. If the look on my face was convincing enough, people passing in vehicles would believe that what I was doing was not crazy or dangerous. An hour prior to my phone call with Giuseppe, an incorrect Google map screenshot on my phone had led me through a dark forest. I could hear barking dogs in the distance and it got louder with every step. I felt scared because I knew all of this noise was aimed at me. Finally, I reached a closed gate and fence line and it was VERY obvious that I should go no further. Run down sheds, old cars and barking dogs—it looked like the perfect place to die in a movie. Going backwards was the worst though. I knew turning around with night fast approaching that I was in deep shit. I was so close, maybe a km through the forest, but now I had to go back and navigate the winding highway at twilight with no footpath.
When I made it out of the forest I stood at the top of the highway but it was too dangerous with all the cars, trucks and disappearing light. I put my headphones on and listened to Wasted Pilots next to a chicken coop. Swallowing the air when it tasted bitter and cold, I remembered a golf course just before. I thought if I could walk back to it, I might catch someone to call a taxi. Either that or hitch a ride from the road as plan b. I met the last two golfers chatting in the car park and asked for help. One of the men insisted on driving me down the highway rather than take a taxi, the other (amused by the random situation) patted me on the back. I chucked my muddy bag into the boot of a black Renault station wagon next to muddy golf clubs. The kind French man driving was with his 20 year old son—they had just spent the day together as his boy was visiting from Caen on study break. At the bottom of the highway, his son got out of the car (one block before I did) to meet some friends for dinner. His father kissed him three times. Once for each cheek and forehead with two hands clutching the sides of his face.
About the Artist
Janet Lilo (b. 1982, Ngāpuhi, Samoan and Niue) is an internationally recognised artist based in Avondale, Auckland. She documents relentelessly, in both public and private settings: from filming a fleet of night-time dancers in an arcade in Japan, to re-creating a break-up scene from the movie 'Twilight' in Porirua using two complete strangers cast through an email callout, to re-editing worldwide YouTubers singing infectious pop songs in their bedrooms. In her practice, she regularly experiments with the various ways in which she can capture, edit and exhibit documented sites, sounds, people and places.
Since completing a Masters of Art and Design from Auckland University of Technology in 2006, Lilo has exhibited in major group exhibitions, and has been the recipient of residencies in Aotearoa and abroad. In addition to maintaining her own visual arts practice, Lilo is also a member of the arts collective Whau The People. Whau The People has been instrumental in creating arts experiences with and for their local neighbourhood, Avondale. This includes staging an annual Whau Arts Festival, now in its third year. They have also recently opened an innovative community arts space, All Goods – Whau artspace.