Considering Merata Mita's Legacy
Chloe Cull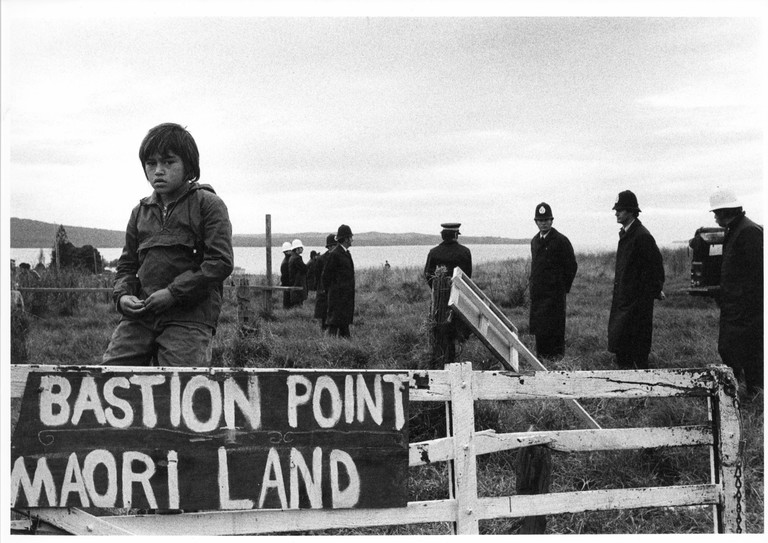 Two factors have contributed to the dialectic of persistent erosion of the rights of a growing number of Maori women who articulate and express themselves, not only in political action, but also in the arts, and through every conceivable medium. Progression towards anti-colonial expression took place across the board. How convincingly did Shona Rapira Davies, in her work Nga Morehu, a representational group of Maori women worked in clay, portray the sentiments of Donna Awatere's book Maori Sovereignty, that 'Maori women, doubly despised because of their sex as well as race, had the worst of it all'. And how agonisingly well, have Kura Te Waru Rewiri and Emily Karaka paralleled in their paintings the statements of Eva Rickard, Ripeka Evans, Titewhai Harawira, and Atareta Poananga, statements about dispossession, about loss of land, about injustice, about loss of mana, about genocide. Words and pictures will challenge the Pakeha to honour the Treaty of Waitangi. And while their work challenges the Pakeha to absorb and act on the messages, it forces Maori women to rethink their position in society. Not surprisingly, when my obsessive struggle with filmmaking began, it was with the issues that most concerned us as Maori women that I became pre-occupied — the issues of injustice, land, te reo Maori, the Treaty, and racism. Add to that, women and gender issues, and for those who don't know, these are the things that consume us, consume our energy, beset us every moment of our daily lives, they are brutalising, violent, and some of us die because of them. For Maori women, western feminism is a luxury we can ill afford in the daily struggle for survival.

Merata Mita, 19941
Filmmaker Merata Mita (1941 – 2010, Te Arawa, Ngāti Pikiao) wrote the above statement about Māori women in the arts in her 1994 article Trick or treat: Issues of feminism and post-colonialism in relation to the arts. In a single paragraph Mita summarised the concerns held by Māori women at that time and leading up to it (since the arrival of second-wave feminism in New Zealand). In this key text, Mita brings together theories by Māori women academics and activists such as Donna Awatere, Mira Szaszy, Ripeka Evans and Ngahuia Te Awekotuku with the work of traditional and contemporary Māori women artists such as Emily Schuster, Kura Te Waru Rewiri, Emily Karaka, Roma Potiki and Lisa Reihana. The essay appeared in the third issue of Te Pua, a Māori women's journal edited by Linda Tuhiwai Smith and Reina Whaitiri.
Mita is well documented within New Zealand film scholarship as one of the most significant New Zealand filmmakers of her time.2 Less frequent is the recognition of her role as a commentator on politics, feminism, mana wahine and the New Zealand film industry.3 Mita's writing and her openness in interviews demonstrates a social and cultural awareness alongside a critical insight that deserves to be highlighted and celebrated. Considered in tandem with her documentary and feature filmmaking, Mita's commentary on gender, culture and the arts can be seen to contextualise her work within the development of mana wahine theories during the 1980s and 90s. This essay aims to make visible Mita's contribution to mana wahine and to a discussion of Māori women's position in the arts in New Zealand through critical analysis of her writing with reference to her filmmaking.
For many women, feminism is a loaded concept. The term is built on the assumption of a common gendered experience of oppression. This assumption can alienate women who live lives shaped by different kinds of oppression such as racial, cultural, economic and sexual. Particularly since the arrival of second-wave feminist ideals in the 1970s, Māori women have felt that the specificities of their lives and experiences fail to be reflected within feminist theory and practice. According to Mita:
What happened, was that Maori women became marginalised from the women's movement. So they became instead deeply involved in Maori political groups which fought for the equality denied them by institutions and for the equity that was refused them by Pakeha women.4
Part of this 'fight' was the development of theory specific to Māori women underpinned by a Māori world view. Mana wahine, often referred to as Māori feminism, was developed out of a need for Māori women to represent themselves, using their own terms and based on their specific needs.5 Over the last 30 years in particular, mana wahine theory has been shaped by political activism and lobbying by the Māori women's welfare league and activists such as Titiwhai Harawira, Donna Awatere and Eva Rickard. More recently it has been utilised within academic settings to influence multiple disciplines such as women's studies, education, politics, and health. Leaders in the development of mana wahine as an influential, cross disciplinary academic theory have been women such as Ripeka Evans, Leonie Pihama, Linda Tuhiwai Smith and Ani Mikaere.6
In both her films and written commentary, Mita articulated the world-views, histories and sufferings of Māori people. However, her work has largely been considered and responded to within Western art historical parameters. Within the arts, mana wahine theory has been slow to influence research and critique, particularly during the decades in which Mita was active. In the 1980s and 1990s, in the writing of female Pākehā art historians and critics it was the absence of specificity in relation to Māori women artists that was acknowledged by the authors. For example, in essays by Anne Kirker and Christina Barton, there is an intentional distance placed by the authors between themselves and a consideration of Māori women's art practices. In the introduction of her 1992 book, New Zealand Women Artists: a survey of 150 years, Kirker writes, "within the limitations of a Pakeha perspective, I have only partially discussed the art of Maori women evolving within their own tradition, believing that there are more appropriate authors to do so."7 In the catalogue accompanying the 1993 exhibition Alter/image, Barton and Deborah Lawler-Dormer highlight the role feminism has played in the lack of representations of the views of Māori and Pacific Island women artists:
In our local context, feminist dialogue often occurred without recognising different concerns of Maori and Pacific Island women artists … We acknowledge that our selective attention does not address the differences within these communities and the struggles they face. We hope that this territory may be uncovered and exposed collectively in the near future.8
In terms of work by Māori women specifically, at this time there was a movement toward exhibitions and therefore criticism that focussed on Māori women's practice. The Haeata Māori Women's Art Collective curated exhibitions such as Whakamamae at the City Gallery Wellington in 1988, and produced publications including Haeata Herstory 1985.9 Authors and academics such as Irihapeti Ramsden, Katarina Mataira, Ngahuia Te Awekotuku and Mita herself responded to these exhibitions in magazines and journals like Broadsheet and the New Zealand Listener.10 More recently, a small but significant group of Māori art historians and curators such as Ngahuia Te Awekotuku, Huhana Smith, the late Hinemoa Hillard, Ngahiraka Mason and Megan Tamati-Quennell have made a substantial effort in the production of exhibitions and publications about Māori art and Māori women's art.
Mana wahine often serves as the natural cultural foundation for the work of the above contributors. However, in terms of the development of mana wahine as an art historical framework, there is still more to be done. It is reasonable to suggest that mana wahine is yet to serve as the central tenet to art historical theory in the same way as feminism so often has since the 1970s. The application of mana wahine theory to arts criticism and commentary is essential if we are to make visible the overlooked contributions of Māori women, such as Mita, to the arts in general. Mita's body of work serves as an important example, for she was not only a proponent of the development of a Māori woman-specific theoretical voice, but also utilised a mana wahine value system in the making of her films.
Growing up in the Bay of Plenty's Maketu, Mita's childhood was shaped by traditional Māori culture: her community was built around the marae, and most people spoke Māori rather than English. According to Mita, it was a "very traditional, very sheltered upbringing…. We were surrounded by Maori speakers, and the language intrinsically has Maori attitudes in it."11 Māori culture was central to Mita's identity from birth; it dictated how she related to her whānau, the world around her, how she valued herself, and how she viewed Pākehā:
I identify very strongly with being a woman from Te Arawa tribe and particularly Ngati Pikiao, our sub-tribe. There was no question but that was a wonderful thing to be. I always had this quiet fulfilling feeling about being part of Ngati Pikiao….We didn't have much contact with pakehas….I saw that pakehas owned stores and taught Māori kids. That they held positions of authority.12
After high school, Mita moved to Auckland to train as a teacher. Her relationship with filmmaking began during her first teaching role at Kawerau College in the mid-1960s, when she bought a second-hand Super 8 for use in the classroom. This camera became a teaching tool for Māori students who had "a survival problem, not only in school, but out of it."13 Following a move back to Auckland and away from teaching, Mita was approached to assist foreign film crews seeking access to marae. Mita became a liaison, facilitating the making of films about Māori. According to Mita, she began to feel uncomfortable about this role:
I agreed to do research and liaison but I was no longer happy about it. I felt like a sell-out. I was leading these people into some very sacred spaces and exposing Maori people, and it would end up as a film of how some other person saw Maori people and not how we saw ourselves.14
This experience triggered Mita's awareness of a gap in filmmaking. At that time, there were no films telling Māori stories based on Māori experiences and perspectives. Mita's work in the film industry during that time provided her with the training to begin work on films of her own. One of her earliest films was Bastion Point: Day 507, which Mita began filming in 1978 during the Bastion Point occupation. Bastion Point, or Takaparawha, is a piece of coastal land in Orakei, Auckland. In the 1970s it became part of a very public battle over ownership rights between Māori—specifically Ngāti Whātua—and the Crown following decades of confiscation by the government since the signing of the Treaty of Waitangi. In 1977, Joe Hawke and the Orakei Māori Action Committee led an occupation of Bastion Point that lasted for 506 days. In this time the occupiers built a marae and housing, and grew crops. Mita's documentary followed the 507th and last day of occupation, when 600 police arrested 222 members of the occupation and evicted the rest in what was, according to R.J. Walker, "the most powerful show of state force against Maori people since the dismemberment of Parihaka in 1881."15
Mita was met by the people of Bastion Point with suspicion, largely due to the "unsympathetic media treatment" they had experienced throughout their occupation.16 Mita had no film qualifications, no filmography of her own, and no history of Māori filmmakers to respond to or build upon. She and her team were met with resistance from police and distrust from the occupiers, but made an effort to remedy this distrust through her own emotional investment in the occupation. She stayed frequently at Bastion Point with her family and attended meetings with the occupiers.
It was in the production of Bastion Point that Mita developed what could be termed a kaupapa Māori approach to filmmaking that became characteristic of her future work. On a basic level, this was driven by Mita's devotion to presenting to a Māori audience. Her intention was to show the feelings of the Māori occupiers, rather than those of police, the Crown or the media.17 This aspect of Mita's practice caused conflict during the editing stages. Her film team, Gerd Pohlman (camera) and Leon Narbey (sound) disagreed with the perspective she wished to create through editing. According to Mita:
They thought that by showing so many police the film became anti-police, and they were very defensive about the pakeha stance, which didn't bother me in the slightest. I mean, I was trying to show how the Maoris felt. I rejected their version which tried to show that the police were just trying to do their duty.18
Clearly, Mita's perspective as a filmmaker was strongly underpinned by her Māori identity. For example, her sense of time and place was very much shaped by her taha Māori. Māori audiences, therefore, were able to relate to the content and sensibility of her films. In 1986 Mita described this perspective as follows:
I don't have what they call a rational sense of sequential events. I don't see time in a chronological order at all. My past goes back over a thousand years, which could be yesterday, and it applies to the future as well….They say if I cut film like that it's extremely difficult to follow. Well, I've never had any complaints from Maori audiences.19
Mita has spoken about her role as a filmmaker and the reception of her films as being similar to that of a kaikōrero and the response to whaikōrero on the marae atea: "I feel I'm presenting messages in the same way men do with the whaikorero. I never think in terms of the film as an end in itself but as a means of speaking to people."20 For Mita, the cinema became like the marae ātea, a space for Māori to listen and respond to Māori having their say. She continues, stating that, "They [kaikōrero] conjure up this imagery so that it's very visual—they make connections with land…and genealogies that are critical to the journey, and that's what I like to try and do with images."21 In a 1984 interview with Pascale Lamache, Mita spoke of the relationship between her work and the oral traditions of Polynesian cultures:
None of the Polynesian races, including the Maori people, come from a literary heritage. So it suits me to make pictures on celluloid that were formerly pictures of the mind, memory pictures, pictures of the imagination, that the story teller uses all the time to make his stories more interesting and exciting. With the invention of film, the fact that you are able to transpose these pictures of memory, imagination and reality, mix them all up and make a story from them that you can see with your eye rather than with the mind's eye, is, I think merely a continuation of the oral tradition. That's how I see my work.22
Mita was aware that her comparison to whaikōrero could be seen as a challenge to traditionalists. However, she countered this by stating that "You either use tradition and culture as a form of oppression, or you can use it to progress by extending the barriers."23 Such comments came as a response to the criticism Mita received from some Māori for her outspoken views. Her role as a presenter on Koha in the 1980s, a weekly Māori programme broadcast in English, drew much criticism, in particular from her whānau. Given that the shaping of the Koha set to mirror the wharenui, Mita was critiqued for her engagement with what was considered to be a male preserve—that of speaking to an audience with authority and knowledge.24According to Mita, "my family censured me for being outspoken, loud-mouthed and not knowing my place."25 Mita was particularly critical of the way arguments in favour of tradition often cover, or provide rationalisation for, the marginalisation of women, particularly within the workplace.26 She argued that while tradition and tikanga in terms of the marae provide a particular function, off the marae within a contemporary and increasingly multi-cultural society, tradition can inhibit economic, social and political progress for Māori.27
Adopting a way of filmmaking that reflected a Māori identity was part of what Mita later referred to as "decolonising the cinema."28 In 1992, Mita wrote one of her most comprehensive essays titled The Soul and the Image. The essay—published in Jonathan Dennis and Jan Bieringa's Film in Aotearoa New Zealand—tracked the relationship between Māori and film in New Zealand, beginning with the 'colonising' of the screen in the late 19th century and ending with Mita's perspectives on how best to 'decolonise' and 'indigenise' the screen following nearly one hundred years of racist representations of Māori. The essay utilises Mita's extensive knowledge of New Zealand's film history in order to credibly critique the New Zealand film industry, based on her experiences within it.
In The Soul and the Image, the terms 'decolonisation' and 'indigenisation' articulate Mita's efforts and intentions as a filmmaker in the decades leading up to the essay. Her 1984 interview with Lamache, for example, followed the release of Patu!, a documentary about the 1981 Springbok tour. Mita spoke to Lamache about her concerns around the colonising influence of the Western film industry:
Film has the power to destroy myths and demystify those areas of knowledge that are mystified. That knowledge extended and becomes common property. The powerfully negative aspects of film, of Hollywood in particular, is the way it spreads Western culture and ideology throughout the world. This is because of the commodity nature of film in the hands of capitalist countries, especially the USA, which leads to the insidious effect of corrupting the indigenous and ethnic values of other peoples.29
In The Soul and the Image, Mita describes how a Western ideology has shaped filmmaking in New Zealand. From the need to "exaggerate or minimise aspects of Maori character and culture to make the action more accessible and attractive to a foreign audience"30 to the emphasis on commercial value and tourism potential through the presentation of the "exotic and the unusual,"31 Mita critiques the insensitive and offensive portrayal of Māori in film in the 20th Century. In turn, this critique has shaped Māori opinion of the film industry in New Zealand, which according to Mita was still driven by suspicion and mistrust in 1994.32
By making documentary films such as Bastion Point and Patu!, Mita aimed to subvert these misrepresentations by appealing specifically to a Māori audience. This, and the very fact that she was Māori, was of great concern to some Pākehā. While making Patu!, for example, Mita found that:
I kept being asked by white liberals if the film was going to be coloured by a Maori perspective, if you will excuse the pun. Obviously, the answer is "yes" since I am not white and lack the conceptual ability to think and therefore be white. Strange how people are threatened by this one, the mere fact of being Maori.33
Alongside the "mere fact of being Maori" was the fact that Mita was female, which also had an influence on how Mita was treated as a filmmaker, and how she went about making her films: "…you have less credibility if you're a Maori. It's bad enough having less credibility if you're a woman but you'll have even less if you're a Maori one."34 In a 1983 interview with Julie Benjamin and Helen Todd, printed in Alternative Cinema, Mita talked candidly about men in the film industry in New Zealand. Following the production of Patu!, Mita was at first criticised by feminist groups for her lack of an "attack on men."35 However, as Mita put it,
I tend to take it for granted that if you're attacking institutions, you're attacking men. Because the power of the institution is in the hands of men. So I tend not to spell it out that clearly because I think that anyone with any feminist awareness must realise that you're attacking an entrenched male system.36
In the making of Patu!, followed by her feature film Mauri (the first by a Māori woman), Mita continued to subvert entrenched systems despite being consistently met with opposition by the film industry, which in 1986 she referred to as a "white neurotic film industry."37 She did not let this inhibit her outspokenness, however, and continued to give interviews and write essays that challenged dominant hegemonies. Mita's calls to decolonise and indigenise the cinema and the screen were particularly pertinent alongside calls for Māori sovereignty and mana wahine from politicised Māori women such as Donna Awatere and Ripeka Evans. Equally, the parallels Mita drew between the role of the kaikōrero on the marae ātea and her own work as a filmmaker and commentator added to mana wahine discourses. In calling herself a kaikōrero, Mita took back 'labelling rights' from Pākehā feminists and Māori men, as to what constitutes 'speaking' for Māori women.
As demonstrated by the introductory quote, Mita was just one of a large group of Māori women within the arts, academia and activism who have contributed to the development of mana wahine histories and theories. Like Mita, they too have been largely rendered invisible within feminist, political and art histories. By utilising her own mana wahine perspectives alongside her experience as a filmmaker, Merata Mita's writing provided insight into New Zealand's film industry, tradition and modernity in Māori culture, and challenges associated with feminist ideals for Māori women. As demonstrated by Mita's work, it is through a close reading of cultural history and context, underpinned by mana wahine, that we can support meaningful discussions of Māori women's art practice.
About the author
Chloe Cull is currently working at the Toi Māori Curatorial Intern at The Dowse Art Museum. She also works part time as a curatorial research assistant at the Wellington City Gallery. Her curatorial interests are primarily in contemporary Māori art, contemporary women's practice and global indigeneity. She has written for Canterbury University's postgraduate arts journal Oculus and is a regular reviewer on EyeContact.
Glossary
iwi: large kinship group, tribe.
kaikōrero: the person who performs the whaikōrero
marae ātea: the space in front of the meeting house on a marae
Ngāti Whātua: North Island iwi of the Northern Peninsula and Auckland areas
Pākehā: a person in New Zealand of predominantly European ancestry
whaikōrero: oratory, formal speech making traditionally performed by men with some exceptions.
whānau: kinship unit of central importance to Māori culture, extended family group
For further reading on Merata and her films
Adah, Anthony Ochuko. "Embodying the Screen: Body and Identity in Aboriginal Cinemas." PhD diss., University of Toronto, 2007.
Britos, Peter. "A Conversation with Merata Mita." Spectator — the University of Southern California Journal of Film and Television 23:1 (Spring 2003): 53-62.
Horrocks, Roger and Merata Mita. "Patu!" Alternative Cinema, 11:2-3 (1983): 14-15.
Harding, Bruce. "'The Donations of History': Mauri and the Transfigured 'Māori Gaze': Towards a Bi-national Cinema in Aotearoa." In Interpreting the Past: New Zealand Cinema, edited by Alistair Fox, Barry Keith Grant and Hilary Radner. United Kingdom: Intellect Ltd, 2001.
Lamache, Pascale with Merata Mita, "Interview with Merata Mita." Framework 25 (1984): 3-11
Mita, Merata with Julie Benjamin and Helen Todd. "Meshes of an Afternoon." Alternative Cinema 11: 4 (1983): 36-42
Mita, Merata. "A Film Maker's Manifesto." Alternative Cinema 12: 3-4 (1985): 19
Mita, Merata. "Trick or treat: Issues of feminism and post-colonialism in relation to the arts." Te Pua 3:1 (1994): 37-41.
Mita, Merata. "Merata Makes Movies." Broadsheet 106 (Jan/Feb 1983): 20-21
Mita, Merata. "The Soul and the Image." In Film in Aotearoa New Zealand, edited by Jonathan Dennis and Jan Bieringa. Wellington: Victoria University Press, 1992: 36 - 54.
Mita, Merata. "Merata Mita film-maker." In Virginia Myers, Head and Shoulders. Auckland: Penguin Books Ltd., 1986: 42-56
Peters, Geraldene. "Lives of their own: films by Merata Mita." In New Zealand Filmmakers, edited by Ian Conrich and Stuart Murray. Detroit: Wayne State University Press, 2007: 108-110
Robson, Jocelyn and Beverley Zalcock. Girls' Own Stories: Australian and New Zealand Women's Films. London: Scarlet Press, 1997.
Shepard, Deborah. Reframing Women: a history of New Zealand Film. Auckland: Harper Collins Publishers Limited, 2000.
Williams, Karin, Interview with pioneering Maori filmmaker Merata Mita (1942 – 2010), for Pacific Perspectives on Hawai'i Public Television, 1997. Accessed 3 October, 2015. http://www.youtube.com/watch?v=KH1TzEKsXik, accessed: 5/06/2014
Selected Filmography
Mita, Merata (co-director/co-producer), Bastion Point: Day 507, New Zealand, 1980
Mita, Merata (director/producer), Patu!, New Zealand: Awatea Films/NZFC/QEII Arts Coucil of New Zealand, 1983
Mita, Merata (writer/director/producer) Mauri, New Zealand: Awatea films/Radio Hauraki/NZFC, 1988
For further reading on mana wahine theories
August, Wikitoria. "Māori women: Bodies, spaces, sacredness and mana." New Zealand Geographer 61,(2005): 117-123.
Evans, Ripeka. "The Negation of Powerlessness: Māori Feminism, a Perspective." Hecate, 20:2 (1994): 53-65.
Mikaere, Ani. The Balance Destroyed: Consequences for Māori women of the colonisation of tikanga Māori. Auckland: Published Jointly by the International Research Institute for Māori and Indigenous Education and Ani Mikaere, 2003.
Mikaere, Ani. "Cultural invasion continued: The ongoing colonisation of Tikanga Māori." Yearbook of New Zealand Jurisprudence 8:2 (2005): 134-172.
Pihama, L. "Tihei Mauri Ora: Honouring our voices. Mana Wahine as a Kaupapa Maori theoretical framework." PhD diss., University of Auckland, 2001.
Simmonds, Naomi. "Mana wahine: Decolonising politics." Women's Studies Journal 25:2 (December 2011): 11 – 25. Accessed 14 August 2014, http://www.wsanz.org.nz/.
Te Awekotuku, Ngahuia. Mana Wahine Maori, Selected writings on Maori women's art, culture and politics. Auckland: New Women's Press, 1991.
Te Awekotuku, Ngahuia, "Maori Women and Research: Researching Ourselves." In Maori and Psychology: research and practice, edited by N. Robertson, Hamilton: Maori and Psychology Research Unit, 1999: 59-66.
Tuhiwai-Smith, Linda. Decolonizing Methodologies: Research and Indigenous Peoples. Dunedin: University of Otago Press, 1999.
Tuhiwai-Smith, Linda. "Maori Women: Discourses, projects and Mana Wahine." In Women and Education in Aotearoa 2, edited by Sue Middleton and Alison Jones, 34-37. Wellington: Bridget Williams Books Limited, 1992.
Tuhiwai-Smith, Linda, and Papaarangi, Reid, eds. Māori research development: Kaupapa Māori principles and practices. A literature review. University of Auckland: International Research Institute for Māori and Indigenous Education in collaboration with University of Otago Wellington School of Medicine: Te Rōpū Rangahau Hauora a Eru Pōmare, prepared for Te Puni Kōkiri, 2000.
Yates-Smith, Aroha. "Reclaiming the Ancient Feminine in Māori Society, Kei wareware I a tātou te Ūkaipō!" Journal of Maori and Pacific Development 4 (1 February, 2003): 10-20.