Enjoy
Blog
Contents
Summer Residencies at Enjoy
July 23 2015
Over the last decade, Enjoy Gallery has hosted artists, designers, curators and collectives in the gallery during the summer months. The gallery has been used as a studio, publishing house and exhibition space, as well as playing host to an expansive range of public programmes and collaborative events.
Here are just a few of the projects Enjoy has hosted over the years. For a full overview, search 'RESIDENCY' in our archive.
Eve Armstrong
SLIPs: Small Local Improvement Projects, 2006
SLIPs called for local residents to contribute ideas to improve Wellington. Residents were invited to come relax, meet Eve and discuss improvement ideas for Wellington at Enjoy. Throughout the residency Eve hosted an Action & Activity Week, Arts Social Soccer Tournament, a discussion with Heather Galbraith on Collaborative Projects & Processes, a gardening day, and other spontaneous activities and events.
M & W
2007
With a departure from the usual format, the collaborative duo M&W (Kate Montgomery and Harold Grieves) turned Enjoy Gallery into a lo-fi publishing house. Using the gallery as a place to have meetings, host interviews and establish relationships, they launched the collaborative, palm-sized publication Negative Space at the end of the residency.
"As with all good ideas, it started somewhere in the space between and with something of an argument"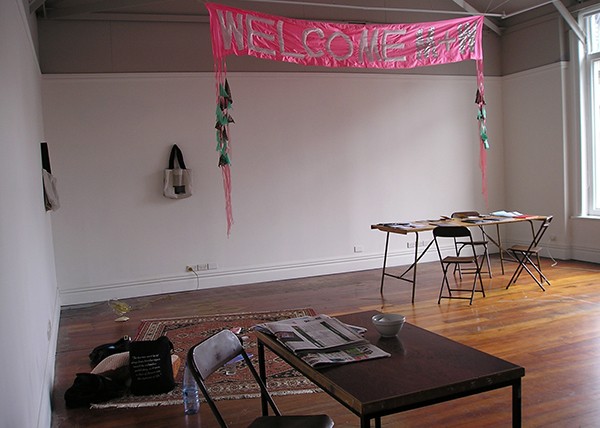 Laura Preston
Go slowly (never completely still), 2008
Laura Preston curated the gallery into a workspace for research on contemporary sculptural practice, focusing on sculpture's relationship to movement and connection to dance. Laura invited dance groups and individual practitioners in for rehearsals, performances and to create new work, alongside a program of artist talks, a film screening and forum discussion. This research formed the basis for her summer residency exhibition Vincent Grocery, featuring Dan Arps, Xin Cheng & Richard Frater, and the publication Never Completely Still.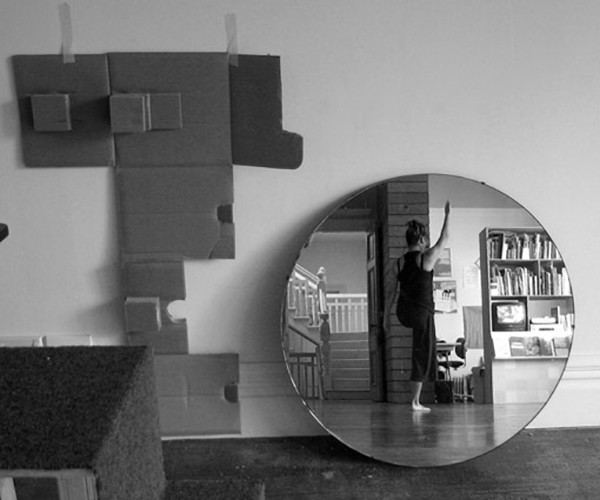 Simon Glaister
Hot House, 2010
Taking the peyote cactus and Aldous Huxley's The Doors Of Perception as points of departure, Auckland-based artist Simon Glaister continued his research into the possibilities of post-Conceptual practice to extend from late 60s and 70s modes of working into more politicised contemporary contexts. Using the format of the residency to impose restrictions of simplicity, limited budgets and structured time-frame, the Hot House opening event featured a performance by the artist, followed by two weeks of workshopping. The residencies last week opened with a second performance and ended with a short exhibition, the final result of Glaister's labour.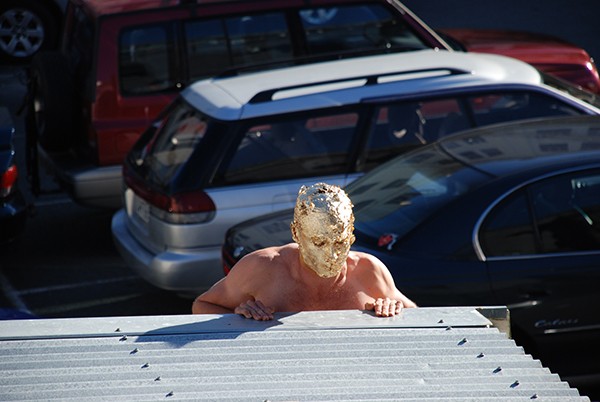 Raewyn Martyn
Dreamy City Without Green Spaces, 2011
Raewyn Martyn's residency took the form of a working studio set up around the investigation of how abstract paint-based interventions and wall works operate in public space. Her research produced a publication, ongoing blog, offsite public artwork and exhibition of site-specific works within the gallery.
Matt Whitwell
Black Flora, 2012
Matt Whitwell used the residency period to create an ambitious, immerse sculptural sound installation within the gallery, working 12 to 15 hour days to complete the work. The exhibition launched with a performance between Whitwell, Claire Harris and Robyn E. Kenealy. A publication was also produced and the residency helped to establish the collective Kemi Niko & Co.
Mata Aho Collective
Te Whare Pora, 2013
The concept of Te Whare Pora embodies the idea of a house of learning and is customarily a space for obtaining knowledge pertaining to fibre arts, primarily weaving. Over the residency, the collective of artists engaged with Te Whare Pora from a contemporary perspective, using the gallery as a studio to create a curtain of deconstructed and resewn mink blankets. The work was then installed in the gallery at the end of the project, with the mink blanket recognised as an allegory for contemporary marae styles and wharenui experiences.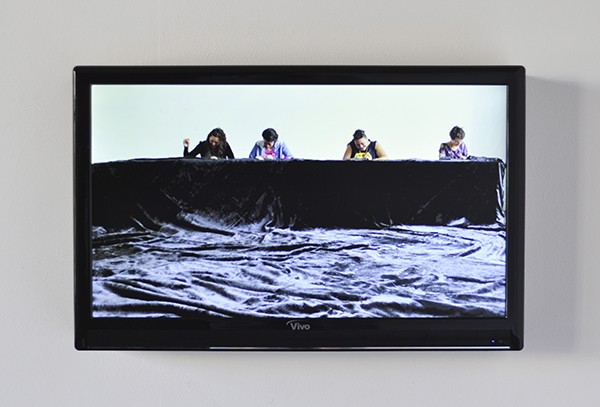 Ema Tavola (curator), Tanu Gago, Leilani Kake, Luisa Tora
Between Wind and Water, 2015
Our latest residency, Between Wind and Water, was timed to coincide with the annual Positively Pasifika Festival, aiming to attract and engage new Pacific audiences and symbolically centralise Pacific perspectives on contemporary art, interpretation and value. Alongside the group exhibition, a public programme of discussions, artist talks, meetings and concluding forum were held. Content for a publication was generated throughout the residency and Between Wind and Water was published in the months following the residency.