Untitled (Pictures, Objects, Enjoy, Cuba St, Wellington, 2005)
Melanie Hogg
We don't usually encounter each other personally, audience and administrators. Our messages to you arrive in your inbox or as flyers in a café and though we welcome you, or on occasion chat, we coordinate from the sideline as you enjoy the art. Ella Bella Moonshine Reed arranged for the flyer invitation to untitled (pictures, objects, Enjoy, Cuba St, Wellington, 2005) to be an Emerald City green. This seemed to me, an Enjoy employee, to imply hopeful curiosity about Enjoy and a desire to pull the curtain aside to reveal the humble operators behind Oz, whilst empowering viewers to realise the significance of their role. With this project Reed posited both Enjoy gallery minders and audience as integral components. Addressing the locational and institutional site, the roles and relationships of artist, facilitator and audience were manipulated in the creation of a reflective functional space.
Our office, usually tucked away at the far end of the gallery, was relocated to the main gallery space, facing the entrance door. The ratty folders, ancient computer and dilapidated office set up, was meticulously cleaned and then reassembled. At the start, it was ordered and sparkling. However, as we continued with our everyday operations, we failed to maintain this initial tidy aesthetic. Papers were strewn, phone books piled up, folders were left lying ajar, and general detritus recognised our activity as we adjusted to being on show.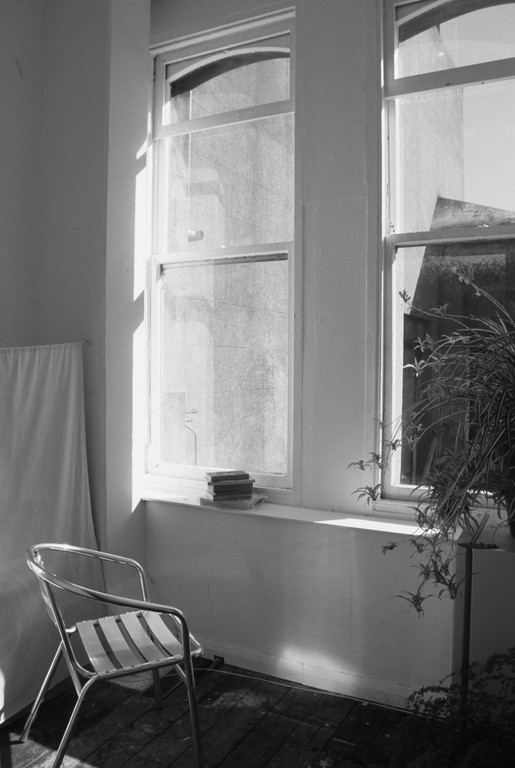 In public spaces we often presume notions of ownership, and, although a simple shift, regular Enjoy visitors found the renovations slightly disorientating. This new arrangement prompted a reappraisal of the gallery environment. The gallery sitter became the first point of contact making interaction obligatory, rather than optional, and our role as facilitator blatant. Intrigued by the set up, our conversations primarily described the other aspects of the installation as we became acquainted with one another. Those unwilling to participate remained perplexed or detached and the fundamental process of negotiation in both relationships and our engagement with artworks was explicit.
Another role, and a more palatable one for some, that gallery sitters adopted for the duration of the project was that of crystal seller. Carefully arranged on a brown velvet table in front of the office area was a range of small, individually chosen crystals, each with their own colour, form and healing properties. This kind of display is not out of place on Cuba Street with Christopher's Crystals a mere block away and street vendors a familiar sight. All for sale at $2, despite their varying purchase values or worth, the crystals were popular souvenir trinkets, drawing on the social milieu of the area, Reed's own hippy background and familiar notions of financial exchange.
To one side of the office, a monitor silently looped a series of landscape images. Each still image remained just long enough for the viewer to reach boredom before skipping to the next. Gentle and calm, the views changed in no particular sequence from falling snow to spring fields, to riverside or hill. Devoid of figures, the images engendered a sense of anticipation. A chair opposite the office desk provided a good vantage point for this, set at a distance to ensure any lengthy discussion with staff was uncomfortable and thus holding the viewer in a waiting area.
Stacked in a box by the door, was a collection of jigsaw puzzles. It was unclear whether they were arriving or departing and they were available for purchase only if enquiry was made, though none ever was. These were old favourites, idealised representations of the land or tourist shots. Obviously completed during holidays or winter evenings, unlike those taped together in secondhand shops, they were not guaranteed to be complete. These brought to mind the monitor images, another collection of settings that an avid puzzle collector would find potentially challenging or enjoyable to reassemble, and emphasised the open nature of the show.
In contrast to the central space, the area the office usually occupied became a tranquil reading spot. This was a cozy haven in which to catch the afternoon sun, equipped with many domestic elements including an aluminium chair, a stack of books and large pot plants. It was peaceful, contemplative and responsive to the overly sanitised nature of many gallery spaces. With an outlook onto the rear of the building and café below, the audience was invited to relax and ponder from what is usually the staff window. Situated literally in the administrative space, viewers were made aware of their importance in the structure of Enjoy and the crucial role an audience plays for the running of any space.
The institutional framework of Enjoy underscored the exhibition. Although an artist-run space, with regular funding and support we are becoming increasingly established and structured. With the roles of administrators under scrutiny, the overall implementation of Enjoy programmes was brought into question and the subjective nature of such made transparent. In this way, institution and location were not utilised as content, but served as a crucial preliminary consideration.
And so each element of gallery etiquette was physically represented.1 The opportunity for slow contemplation, to piece together ideas and narratives, to engage with or participate in a structured environment, and to purchase a work or memento, all laid out in the habitual clockwise circuit of the gallery space. In restructuring our relationships and the space, Reed forced us to question our assumptions, reflect on common practices, evaluate our respective roles and the place in which we dwell. Pictures, objects, institution and location encapsulated, without title.
1.

Thanks to Marnie Slater for discussing this idea.