Playing Favourites
Jessica Reid
Melanie Hogg and I took on the rather daunting task of curating Enjoy's fifth birthday show. Perusing the archive of past shows, we both felt the weight of history upon us. How could we neatly sum up and package the diverse breadth of involvement of tens of artists, curators and co-ordinators who have contributed to Enjoy's history over the last five years? We agreed that the 'best of' retrospective style of curation, an artificial (but perhaps necessary) practice employed by large public institutions when dealing with an extensive collection of work, was not in keeping with Enjoy's aims to further innovative and experimental modes of working. We also agreed that an identity-defining show was a redundant exercise; this being so successfully achieved in the New Zealand artist-run- space exchanges, in which Enjoy took part in 2003 and 2004. So, throwing expectation to the wind, our resulting concept was Playing Favourites, an unashamedly biased selection of our favourite artists, both new and familiar to Enjoy, hailing from across the length of the country. The participating artists were Dan Arps, Liz Allan, Gary Bridle, Ros Cameron, Bekah Carran, Fiona Connor, Jade Farley & Gwen Norcliffe, William Hsu, Douglas Kelaher, Jason Lindsay, Leah Mulgrew, Kim Paton & Louise Tulett, and Sriwhana Spong. The work ranged in size and media from Fiona Connor's huge and meticulously mimetic 'South Pacific Motel Sign' to the bright Enjoy-red helium balloons of Kim Paton and Louise Tulett's work 'Provisions for Cuba Street'.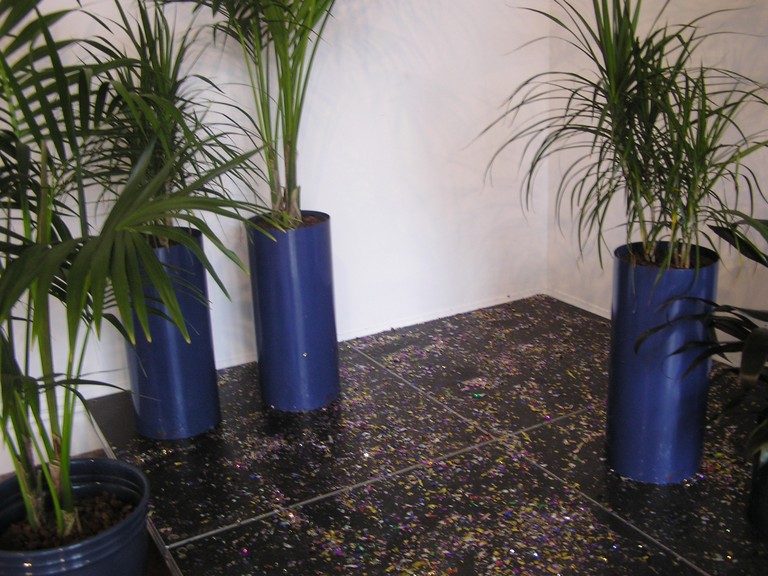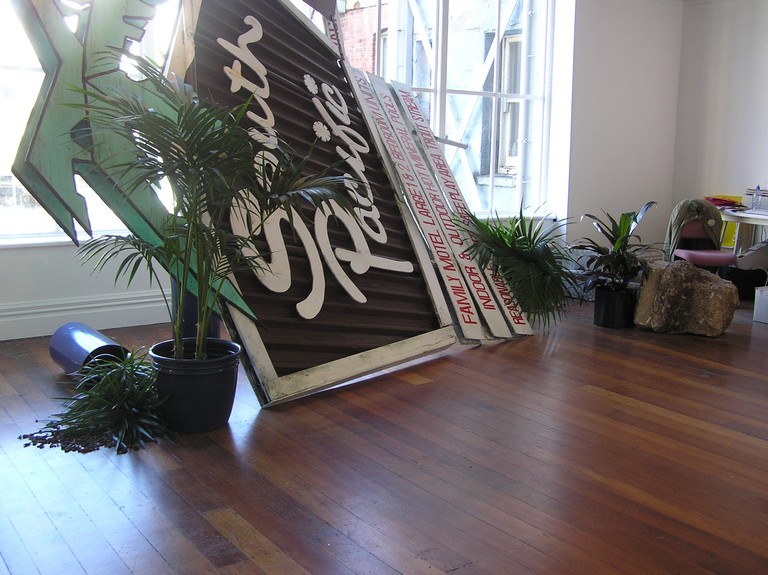 To further complicate things, a different person was assigned each day the task of re-curating the show. We invited Emily Cormack from the Adam Art Gallery and artists Tao Wells and Jason Lindsay (who emailed hanging instructions from Auckland) to be guest curators, and Melanie and I curated a day each as well. Curators were given free reign to do as they saw fit with the work, which could be to exclude or privilege one or many works over others. The exhibition concept allowed the guest curators the opportunity to explore the extent and purpose of their role. Artist Tao Wells, who curated the Thursday hanging of the week, interpreted the curator's role as that of advocate. He selected the DVD work 'Welcome H' by Jade Farley and Gwen Norcliffe for two evening screenings. Proudly standing behind his choice, Tao could be seen on Cuba Street handing out flyers and 'selling' the show to the public passing by.
The ever-evolving nature of the exhibition brought in many visitors for repeat viewings, eager to see what had changed from day to day. Up for only one day each, you had to be quick to see each curator's interpretation. We were also fortunate enough to play host to two music performances, The Gladeyes who charmed their first Wellington crowd at the exhibition opening/birthday party and MHFS whose free-noise closing performance on Saturday morning relaxed and soothed the hangovers of the 'gallery picnic' participants.
Playing Favourites was a fun and sometimes chaotic experience, much like the experience of being involved with the running of a space like Enjoy. Melanie and I would like to thank all the participating artists and visitors who showed their support, for this show and over the last five years.