The story of three sentences
Rita Langley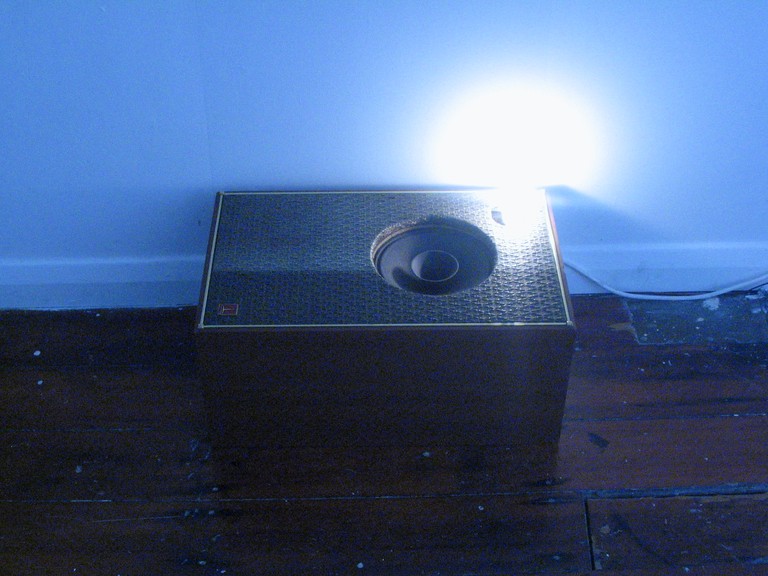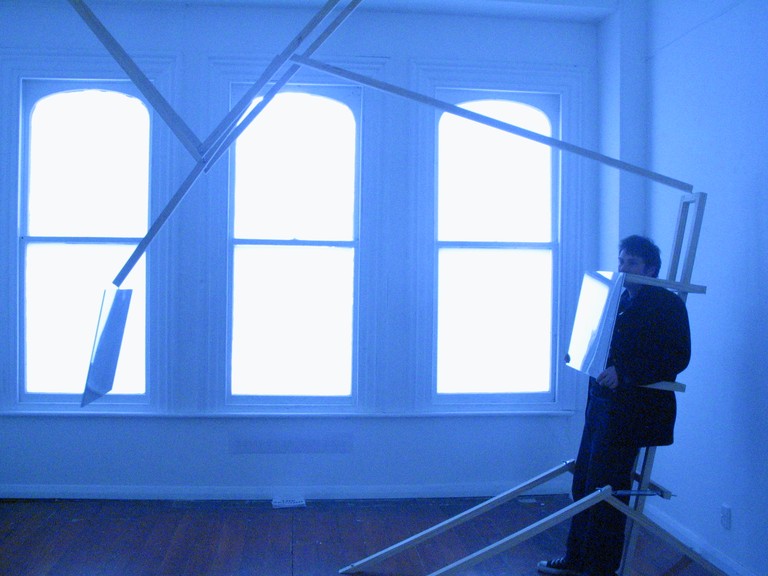 It's never-ending. Heaving in, pushing out, heaving in. Cloying, wet respiration, coming from a modified box-speaker, thrusting a light-bulb rhythmically out of its own fabric front. Although hard to listen to, it is impossible to ignore. Viewers voice their concern for the perpetuity of Bevan's asthma, the story of which is told through a looped audio of heaving breaths. The sound is so guttural that the speaker membrane shudders and twitches as if miming Bevan's beleaguered respiratory system. And it goes on for ever. As do the reflections, if you can swing the mirrors to just the right point in Swing to infinity, baby. As does the washing and grooming in Rachel gets ready to go out drinking. Art—like beauty—is worth suffering for. "I'd like to thank Bevan," declares the artist, "for giving himself asthma so I could make this work."
As part of Enjoy's New Work series, Amy Howden-Chapman's work contributes a lot that is certainly different, if not entirely new. At a gallery whose existence corresponds to the introduction of the fine arts degree at Massey, her background as an art history major at Victoria University sets her apart. She draws inspiration from a wide range of artistic sources, styles and big ideas, which act as filters to the expression of her own, more tentative epiphanies. At her artist's talk, she showed the audience things that inspired her including a drawing of a sculpture of a photo of a performance work. "I don't remember the name." she admits. "But it's very, um, post…"
The link between images and words has long been explored in art, and clearly Howden-Chapman is post that. It is not simply images that the words in each of her sentences relate to, but rather works occupying all three spatial dimensions, as well as a chronological one. This time element in the work is a role-reversal between text and object in the visual art context. In the classic art gallery model the narrative, which orders events over time, is contained in the text accompanying the work; in Howden-Chapman's exhibition the written element becomes a syntactical snapshot, Bevan's Asthma, which is given its chronological 'story' by the gasping, dripping assemblage. She references this idea to works where the title plays a key role in viewer response to works. An example is Damien Hirst's dead sheep in a tank of formaldehyde, at first distant but brought into an emotive context with the title Away from the flock. But the 'stories' and their 'sentences' share a much more symbiotic relationship than artwork and title. If the line between the work of art and its title is the border of the work, in Howden-Chapman's art we no longer need a passport to cross.
The second sentence, fun and frivolous Swing to infinity, baby, sits uncomfortably alongside its 'story' which manifests as an intimidating pine framework bolted to the gallery's floor and ceiling. The scale of the piece and its hard-edged, brittle appearance make it vastly less inviting than the words. For a viewer to actually swing at all, usually takes some cajoling from whose who are already familiar with the contraption. Infinity is reached when two mirrors align to create infinite depth of space situated where the viewer should be able to see their torso. Howden-Chapman finds mirrors to be "great value for money" in visual currency, following a long tradition dating back to Van Eyck and Velazquez. Conceptually, it is a work whose material creation was far preceded by its initial written concept, concerning the feeling of losing sense of your stomach when reaching a high point on a swing. Its final design was greatly influenced by the early Bauhaus aesthetic, in particular a wooden sideboard that followed the typical form-follows-function, truth-to-materials spirit of Bauhaus teachings. Fittingly, its fate mimics that of the great modernist designs. While attempting universality (or infinity) through a strictly regimented functional structure, the swing alienates its human audience. Uncomfortable as Rietveld's Red Blue Chair, the swing restricts its use to those who in their own physical form adhere to certain design rules. Anyone too short, too tall, or too wide is excluded from the friendly offer in the sentence.
"Explosions of meaning," says Howden-Chapman, "are the goal of these works." This is particularly true for the third piece, Rachel gets ready to go out drinking, a digital video work. She partly intends this to be an interrogation of the principles of gestalt, a theory of perception based on patterns or configurations. She attempts to upset this through odd camera angles and, again, through mirrors. The disjunctive employment of kitchen utensils as implements of beautification seems ungainly at first. But it becomes a compound for an explosion, or a juxtaposition Howden-Chapman hopes will light the fuse. The psychologist, Lev Vygotsky writes that "Words die as they bring forth thoughts." Perhaps this is Howden-Chapman's intention: that in the explosive deconstruction of perception, the sentences and their stories give off enormous energies in the form of meanings. However, the opposite is claimed by Schopenhauer: "Thoughts die the moment they are embodied" - by either words or objects. It may be that these explosions of meaning actually already occurred in the artist's own mind, so the resulting objects would be residual – ash, or art.
The pleasure in this exhibition is that the artist really wants to impart understanding, and offers the sentences and stories to the viewer with an uncommon generosity of ideas. There is no prerequisite knowledge – despite historical influences and inferences, the works themselves may stand alone. The written word in the sentences parody the role that Howden-Chapman's art history studies play in her reading of works by art's heroes, illuminating the background, the meaning, and the social context. Her exhibition works at usurping the old art history's overburdened and often moribund role in contemporary art viewing. Without aggression, this exhibition simply offers a better alternative to studied interpretations in the form of her sentences. She gives the viewer all they need to enjoy this exhibition. To infinity, maybe…