Call & Response
Louise Menzies
The CLUBSproject exhibition for Wellington came at the invitation of Enjoy, who were interested in starting a conversation with other like-minded groups and establishing a programme of exchange across the Tasman to Wellington. Stridently taking the situation for what it was, CLUBS nominated Christopher L.G. Hill to travel to Wellington and produce the show, who in turn asked James Deutsher to collaborate with him, who together moved to open the project to all who were connected and interested.
The resulting project presented many ways to understand, appreciate and ruminate on the condition of conversing. Participating artists included: Dan Arps, Sriwhana Spong, Kain Picken & Rob McKenzie, Louise Menzies, Tao Wells, Helen Johnson, Hao Guo, Josh Petherick, Nick Mangan, Masato Takasaka, Annie Wu, Sean Bailey, Teracid & Inverted Crux,LivBarrett,DanielduBern, ArieHellendoorn, Kate Kelly and Daniel Malone.
Intent on openly investigating themes of hosting and authorship, work for the exhibition began in Melbourne where both Hill and Deutsher are based and where they gathered contributions from those around them. On route to Enjoy this
continued. Landing in Auckland they made an open call for donated works in the weeks leading up to the realisation of the Enjoy project.
Hill and Deutsher's desire for inclusivity blurred the role of author, curator, holiday, space, object, gallery and anonymity – to result in a collectively authored and wonderfully mixed- up collection of objects and processes to be experienced through the Enjoy installation.
Many materials spoke of the everyday, of recycling and impermanance. In particular, the motif of the take-away paper cup pervaded the space – with its bright, chipper smiley graphic grinning alongside less iconic, but still familiar cultural icons. Buckets inverted to form hour-glass shaped assemblages, used plastic drink bottles, small repeating stacks of wrapped chocolate and a wall drawing made from apple prints also featured strongly.
Installation of the CLUBS show was typically done late at night as the FIFA World Cup was on at that time, broadcasting from 3am to 7am. Duetsher himself was responsible for the papier mâché models of the "new ball" featured in the football World Cup games.1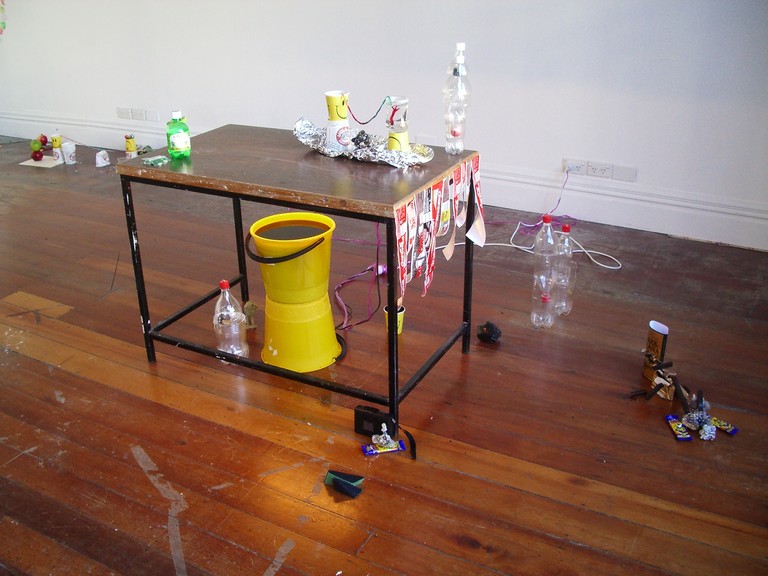 I remember talking with Hill and Deutsher while they were installing and our discussion often returned to the simple notions of movement or flow. In the same way that matter may shift or change as it exists in the environment – or even internally, within a game of soccer for instance – the sharing and influence of ideas are a necessary and vital part of making and experiencing art. Amongst the piles of detritus and donated work that made up the installation, a green plastic bottle with its wrapper still on symbolically offered something – Chi.
About CLUBSproject
CLUBSproject Inc. is an artist-initiated project that initially resided above the old Builders Arms Hotel in Fitzroy, Melbourne, Australia. They developed a program from this site for three and a half years from September 2002 – August 2005. Since the closure of this pub, coupled with the force of gentrification in the Fitzroy area, CLUBS encountered a difficult political struggle with the new landlords, and it became untenable to remain on the premises.
This situation opened up the possibility for CLUBS to become a more nomadic project. No longer having a fixed address, CLUBS is currently operating as a more event-based outfit, finding temporary landing-sites within which different projects can be pocketed for brief moments of time.2