Every Now, & Then
Amy Howden-Chapman
The show seemed more about a journey over time than about objects in space – entering Enjoy during the exhibition Every Now, & Then, one could feel a sense of something in progress. The only constant factor throughout the exhibition's duration was the presence of a curatorial essay and table displaying documents and images of work by David Mealing, an artist who practised in Wellington through the 1960s, '70s and '80s. Works by two other artists and a collaborative group—Louise Menzies, Ella Bella Moonshine Reed and The Association of Collaboration—changed over the course of the exhibition. Things were rearranged or removed, or simply took over the gallery for a single afternoon.
Mealing's work was presented through documentation of performances and installations. Videos, papers, clear-files, photos and photocopies formed a modest archive offering an introduction for a younger generation of artists, perhaps unfamiliar with Mealing's practice. Curator Melanie Oliver sums up Mealing's practice as having an "emphasis on re-engaging with society."
Art exists through reflecting on society and therefore must remain at a distance from it. Following a logical trajectory, Mealing's desire for his artwork to engage with the community eventually led him to swapping his role as artist for others such as a curator, mediating knowledge about a local community's history, for example during his twenty-year term as Director/Curator of the Petone Settlers' Museum.
The presence of Mealing's work suggests continuity exits between his practise and contemporary practises that embrace non-object based art forms which privilege process, site-specificity, and community engagement. However, the show also suggests that where contemporary practise might diverge is by more fully investigating communication and dialogue as an abstract entity. In her essay, Oliver pointed to the process and politics of communication as the common theme between the younger artists shown in Every Now, &Then.
Oliver's curation sought to materialise and visualize process in order to bring to light ideas that have been commonly discussed in the Enjoy community, rising to the challenge of presenting residues of actions. Every Now, & Then took on the ambitious task of showing the breadth of relational practice in Wellington. The three contemporary works all took the subject of engaging with communities, but across a variety of forms—a talk, a work that dissipated as it was purchased, and finally a work that built up connections between individuals, allowing a group to form that then went on to create projects beyond the exhibition.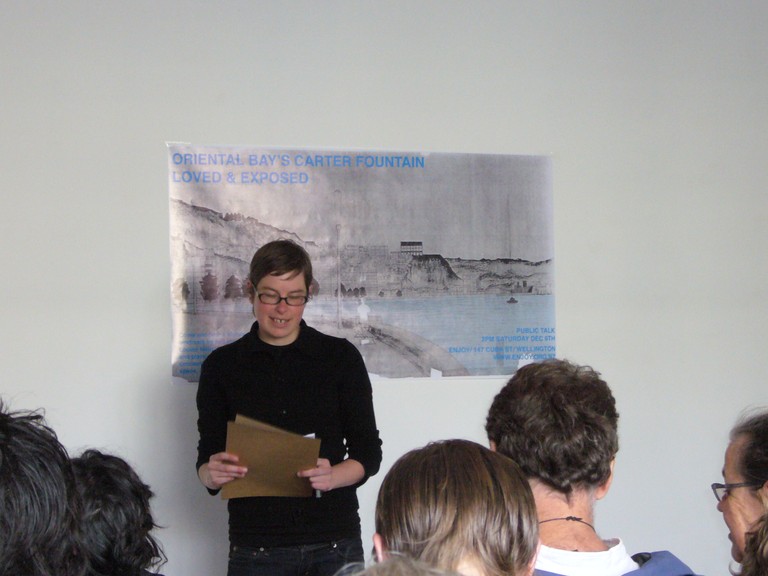 All the works were also enriched through engagement, that is the work actually changed with participation—evolving over the course of the show in both expected and unexpected ways. These three works avoided the pitfalls of more uncritical relational practices—sometimes termed "picnic work"—that seem to only engage with people or audience in order to make them feel good.
Menzies' talk created a forum for local knowledge, a place for stories to be swapped. The Association of Collaboration left chairs in a circle, preserving the experience of a group meeting while also leaving questions unresolved as to how they should function as a collaborating artistic entity. A string of scarves left for sale by Reed asked the viewer to consider the cost of producing such engagements or relationships.
Although each of the works privileged process over product, in each case there remained some sort of visual or text deposit by which the process was flagged – Menzies' poster images and accompanying handouts, an online blog established by the Association of Collaboration, Reed's slight curtain of colour.
Menzies' public talk, Oriental Bay's Carter Fountain, Loved and Exposed, had the most clearly defined duration (the audience clapped when the speech was over) however when the structured part of the event finished, more casual discussion took over with the audience offering up their own myths and experiences of the fountain.
The Carter fountain talk was a way of bringing back into focus an aspect of the city we take for granted. Menzies exchanged concrete information she had gathered about the engineering and design of the fountain and the story of its benefactor with personal stories from members of the audience. The project can also be seen as a continuation of Menzies' broader investigation of what the gallery space can be used for; be it personal expression or to document and celebrate distinctive aspects of the cultural communities, including those to which she herself belongs.
Ella Bella Moonshine Reed's work untitled (twelve pieces, Enjoy, 147 Cuba St, Wellington) considered how value is constructed. The work highlighted how what an art object comes to be worth is due to the communication and discussion that surrounds it, as well as by being able to connect an object to a distinctive place or culture. Her work highlights how objects often become precious when associated with community, or institution.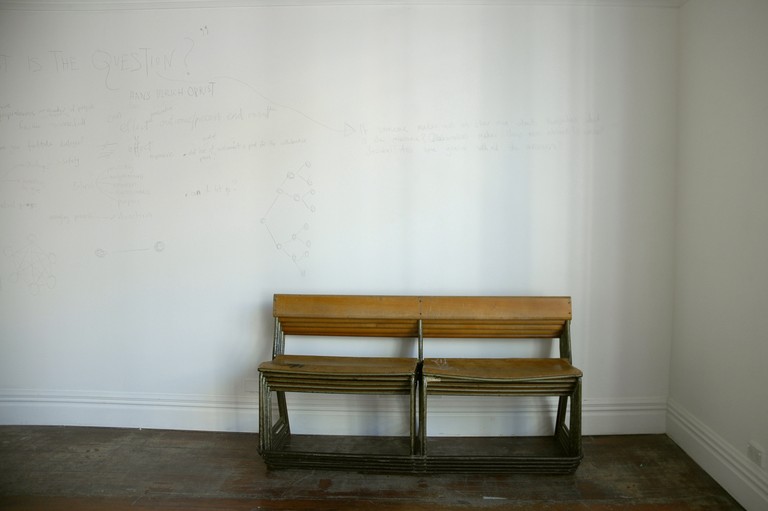 The scarves' means of production was concealed. It was unclear if Reed had made them herself, finely stitching the edges (the art of hemming), if she had out sourced the task, or if she had purchased the pieces and was simply selling them on.
The inclusion of the gallery's street address in the title of Reed's work connected it to a previous show held at Enjoy's old location further up Cuba street; a show in which Reed rearranged the office space and thereby the functions of the gallery. This re-jigging of gallery uses included crystals being laid out for sale, crystals brought – rumour had it – from Christopher's Crystals further down Cuba street. In both works, light travels though simple but beautiful objects, and the culture of colour is transferred from the crafty market stall to the space of the gallery. Here objects that are associated with a culture that seeks to simplify modern life are placed in an aesthetically minimal context. Over the duration of Every Now, & Then, the rainbow of scarfs continued to be slowly simplified, as its elements were purchased. Colours disappeared, leaving the gallery draped around shoulders and necks.
The Association of Collaboration's self-explanatory titling of their project shared the straightforward approach adopted by Menzies and Reed. However, it was not the naming of a work produced or performed by a single artist, but instead of a group structure for producing artworks and critical responses into the future.
Signs of the discussion that were held in the gallery during the exhibition included small interventions and rearrangements. These were remnants of people communicating about the best circumstances under which they might effectively and creatively communicate in the future. Above the aforementioned circle of chairs, a bare light bulb was wrapped with paper, a small poetic act, acknowledging how the architectural elements of a space can influence the outcome of a situation. The shading of the light also acted as a test intervention of a group learning to decide how to make collective decisions. The act could also be seen as metaphoric – the cartoon light bulb that often appears signalling an individual's bright idea, is here a group's joint idea. Over-bearing brightness has been replaced with the soft and comforting, a slow-food movement equivalent of thought – becoming political purely though refusing to be rushed, talking all decisions through while seated in a democratic arrangement.