Treading the Boards
Andrea Bell
From March to May 2006, I served as Enjoy's inaugural intern for the requisite professional practice-based term of my Melbourne MA. I chose Enjoy because I wanted to meet artists, to work on a project that would connect people, and because I was homesick for Wellington. I can remember my first meeting, entirely unsure what I was letting myself in for – while shyly sipping whiskey and gingerale I listened to stories of summer holidays gone wrong, and tried to make sense of my new surroundings. Alas, the whiskey ran dry but I was given the responsibility of coordinating Enjoy's series of seminars and workshops.
The launch of the Interactions series was bittersweet with a farewell party for Enjoy's first ever fanclub member; Emma Bugden. The fortnight that followed consisted of a wide range of forums and floor talks covering both practical and theoretical concerns, as well a number of informal reports hosted by speakers back from exhibitions and festivals internationally.
Some personal highlights included Liz Allan and Louise Menzies' engaging talk on relational practices—aptly titled Face to Face: Observations on Art and Sociality—and Charlotte Huddleston's report back on Govett-Brewster happenings, Jessica Reid's impressions of Next Wave festival in Melbourne, and Tao Wells' unrelenting critical provocations throughout. Nick Spratt also came down from rm103 especially to share with us the highs and lows of the rm project's recent events – including specially produced loot bags made for Next Wave, and Stuart Shepherd narrated a chaotic home video of his folk-art centred trip to New York and India. During this time Enjoy also began its own satellite version of the traveling art-publishing archive Kiosk1 with a generous number of contemporary art publications donated to the new Enjoy library.
As a project, the seminar series attempted to re-affirm Enjoy's position as a space that "facilitates contemporary art projects ... to actively promote critical dialogue."2 Due to the open format of the presentations and the many interactions that took place, new audiences were drawn and current networks were consolidated. This enabled members of the Enjoy community to re-examine their practices in a critical yet supportive environment, calling for reflection and transparency.
Australian artist Alex Gawronski has spoken of the political autonomy of artist run spaces. He argues that, at best, "the autonomous, self-determined aspects of artist-run activity produces discursive social spaces as significant and indispensable to the actual art exhibited."3
A particular strength of initiatives like Enjoy is the ability to locate artistic and other diverse art-related practices independently from wider institutional and commercial constraints. Enjoy is a hub, and the seminar series verified this as the gallery was transformed not only physically but socially, intellectually and emotionally for the duration of the Interactions seminar series.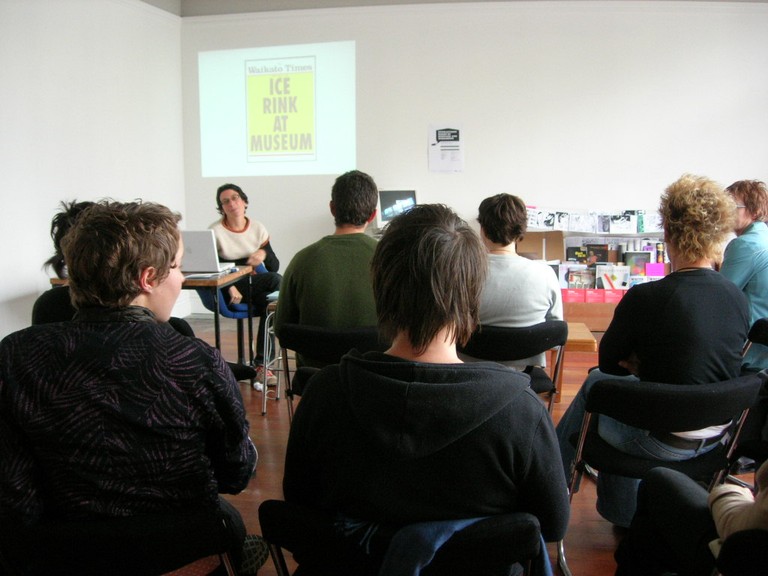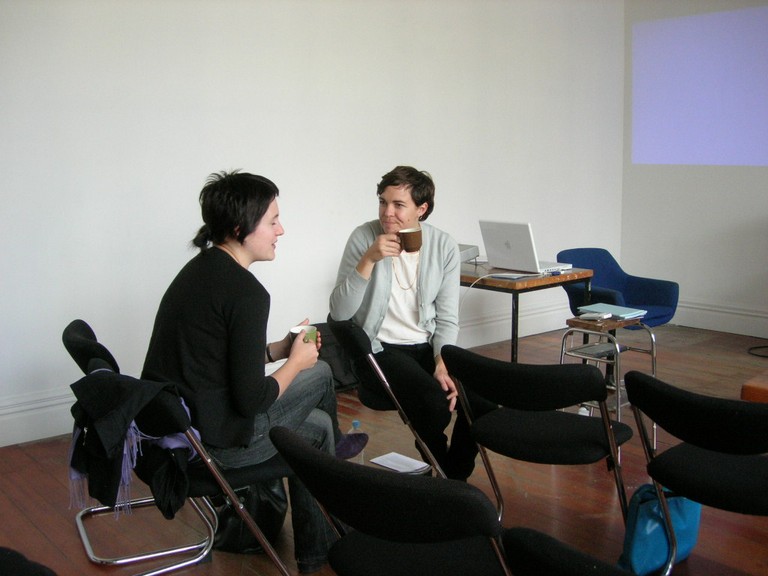 Hosting an intern might be seen as a sign of maturity for an artist run space such as Enjoy. At the SPARK 04 artist-run space forum, while in his role as Arts Advisor at Creative New Zealand, Rob Garrett said "project spaces potentially have a role there as one of the pilots who can help build sustainable careers for us. Notjustforartistsbutalsoforwriters, curators and art administrators, people who will become something else in the art profession."4 Though I was wary of using Enjoy exclusively as a training ground it is typical that such spaces pick up the slack of public galleries.
During a seminar featuring Tina Barton, Jenny Gillam, Courtney Lucas, and Maddie Leach titled Documentation—a session which is ironically survived only by a low quality MP3 recording—Barton spoke candidly about the level of debate in contemporary art institutions, praising Enjoy for staging the seminars "on the smell of an oily rag." She criticised the reticence of larger art institutions with greater budgets for not delivering challenging public programmes to their audience concerning the consumption of contemporary art.
A number of art professionals from public galleries around the country attended Enjoy's free seminar series. While it is important to acknowledge the discrete differences in the agendas of public and artist-run galleries, the presence of those professionals gave me some hope. One day public institutions might realise their role as facilitators rather than arbiters, adopting discussion-based formats over didactic lectures when addressing issues surrounding contemporary practice.
Naturally, there were a number of limitations placed on the seminar series – with nothing but a petty-cash budget for the entire fortnight. Chocolate biscuits and cordial didn't quite correspond with the amount of time and effort donated so generously by our speakers. The seminars were also brought forward by three weeks due to a slight program re-shuffling – giving those who agreed to present little time to prepare. Publicity thrown together at short notice also meant that on some occasions attendance was somewhat more intimate than we'd planned, however, this gave the seminars a more relaxed feel and allowed for more open discussion.
All in all, the seminar series brought a diverse range of people together. From an outsider's perspective I came to see the seminar series as integral to Enjoy's role in the Wellington art community. Enjoy promotes itself as more than just a gallery space for exhibitions, but rather somewhere that "actively promotes critical dialogue."5 Opening up the polished wooden floors to discussion, the seminar series enabled Enjoy to prove this was more than mere spin.